Last night I looked in the refrigerator
at least five times between nine and twelve
Even though I know exactly what is in there
It's as though I insanely believe
some generous genie has miraculously
stocked it overflowing with food
Conspicuously taped on the door
is an attractive photo of me
taken many pounds ago
to remind me to stop
Don't Open
Even though I wish so badly
to be thin again
It doesn't work
I keep opening the devil door
Inside holds so many secrets
Those stealthy late night snacks
Eating ice cream out of the carton
Indulging in scraps of leftovers
And, oh, way in the back of the freezer
Is a rotting piece of my wedding cake
Am I a sentimental hoarder
The complicated refrigerator
Way too much to contemplate
I think it's best if I just forage around
and make a big ham sandwich


Š by Jane H. Fitzgerald.
Used with the author's permission.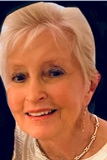 Jane H. Fitzgerald lives in Jupiter, Florida. A retired middle school history teacher, she's a big believer in experiential learning and once developed a hands-on, role-playing curriculum for the American Colonial period. Jane loves interacting with children but has also taught English to adult Hispanic immigrants. The author of four books of poetry, her work has been featured in numerous journals.
CamilleBalla:
So candid - so real - so many can relate.
Posted 04/15/2022 04:17 PM
Wilda Morris:
A good laugh! And yes, an excellent ending!
Posted 04/10/2022 05:20 PM
Anastasia:
As the saying goes, this poem is "relatable content"! Thank you for humour, Jane and Jayne!
Posted 04/09/2022 01:14 PM
Lori Levy:
I like the. humor in this poem, and, I agree, the ham sandwich is a great ending.
Posted 04/08/2022 01:57 PM
Jancan:
Oh, yes, that refrigerator door--the most frequently opened door in my house! Delightful, entertaining poem that resonated with me! Ham sandwich--I gotta have one!
Posted 04/08/2022 11:10 AM
paradea:
My niece has a $5,000 refrigerator that upon opening the door, it's like the 'dawn of creation'!! And I hear a choir! Ahhhhhhhh! Cute poem!
Posted 04/08/2022 09:31 AM
cork:
Does the light go out when we close the door?
Posted 04/08/2022 09:16 AM