Her elegant French-knot roses
lost their splendor long ago;
where soft, pink petals once danced demurely
across the tufted, silver sateen throne,
now pale, lackluster threads pill
like discolored dandruff on a dull gray suit.
But like a seer with her crystal ball,
I sit—gingerly—and beckon back my yesterdays.
Every party, every pout,
every heartache, every hope,
every guest who passed through the portals
of my childhood home is there, somewhere,
in this chair.
If it were animal, I would shoot it
and put it out of its misery.
If it were human, I would offer up
a prayer for its soul.
But it is a chair
with arms split and broken,
legs frail and worn,
a seat ripped open and sagging,
a broken back, jagged and torn.
And so I caress its pitiful frame
like a cherished friend,
wrap it gently, as if binding its wounds,
and leave my life to linger, intact,
in waiting for another day.
© 2006 by Jayne Jaudon Ferrer.
Used with permission.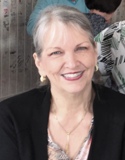 Jayne Jaudon Ferrer is the author of five books of poetry and a nonfiction book about games. Her first novel, Hayley and the Hot Flashes, will be released in June. Jayne created www.YourDailyPoem.com in 2009 to share the pleasure and diversity of poetry. A former copywriter, magazine editor, newspaper columnist, and freelance journalist, her work has appeared in hundreds of publications. When not writing or reading, Jayne enjoys music, old movies, gardening, hiking, and good conversation. A native Floridian, she has lived in Greenville, South Carolina, for the past 27 years. Learn more about her at www.jaynejaudonferrer.com.
Janet Leahy:
This poem is truly a ballad, the story of a well loved piece of furniture, many of us have at least one favorite memory piece.
Posted 04/29/2022 10:43 PM
Adriana:
Rich evocative descriptions of the chair. A lovely and touching poem. Makes me want to write about my own old faded, torn, wrecked treasures such as the seven foot sofa I sleep on that my mother bought in 1950!)
Posted 04/29/2022 09:05 PM
jayne:
Thanks for all the lovely compliments. I hope you'll wrap your arms around some treasured heirloom tonight and dredge up some pleasant memories to dream about!
Posted 04/29/2022 07:11 PM
Lori Levy:
You bring this chair alive for us, Jayne. I especially love the ending.
Posted 04/29/2022 05:50 PM
ghctenmile@earthlink.net:
Congratulations, Jayne. Everyone should have a chair like yours or does already somewhere in the basement or the attic. Not everything needs to be thrown out! All good wishes and thanks tp you for this poem and all your work helping the rest of us to "reupholster" our poems!
Posted 04/29/2022 04:55 PM
Anastasia:
Oh! I had a chair like this for years, and finally had to send it on when I moved out of the country. It's now in a friend's house, and she "really is going to fix it up soon"! Thank you for expressing this so perfectly, Jayne!
Posted 04/29/2022 01:29 PM
CamilleBalla:
Every party, every pout, (love the word, pout) every heartache, every hope, Wonderfully crafted poem, Jayne!
Posted 04/29/2022 11:45 AM
Arlene Gay Levine:
Well done, Jayne! The elegant French-knot roses will never lose their splendor for they live in your heart, and now in ours.
Posted 04/29/2022 11:42 AM
paradea:
I have my mother's old 'bean' pot...still in use. Thanks for this reminder of things we hold on to!! Love it, Jayne!!
Posted 04/29/2022 11:14 AM
RonPoems:
Heres to the icons we put on, sit on, or look at. Thank you, Jayne.
Posted 04/29/2022 10:47 AM
Wilda Morris:
Every party, every pout, every heartache, every hope, What beautiful lines!
Posted 04/29/2022 10:11 AM
KevinArnold:
I love the line, But it is a chair
Posted 04/29/2022 10:07 AM
Darrell Arnold:
You ought to see my house, Jayne. It is a treasure trove of items from my past and the past of my wife. We live in a museum of beloved treasures that bring back memories and often promote conversation, either between the two of us or with our guests. I love your beautiful poem. I can understand, fully, your deep attachment to a broken-backed, jagged and torn old chair.
Posted 04/29/2022 09:47 AM
cork:
Not all chairs have a mystique, but I am sure that each of us has one that does.
Posted 04/29/2022 09:28 AM
tiddles:
Memories are encapsulated in objects. Both are hard to purge. Feelings return through touch. Thank you, Jayne. Marilyn Zelke Windau
Posted 04/29/2022 09:20 AM
Sharon Waller Knutson:
I always look forward to poems by Jayne. She shows us all how to write beautiful poetry. I love how she personifies a chair with exquisite imagery. My favorite image is: "soft, pink petals once danced demurely across the tufted, silver sateen throne, now pale, lackluster threads pill like discolored dandruff on a dull gray suit.
Posted 04/29/2022 08:42 AM
Michael:
Wonderful tribute Jayne. This poem is filled with pathos, winsomeness and truth. A delightful read.
Posted 04/29/2022 08:25 AM
Nabby Dog:
This is a poignant and elegant poem. It proposes the idea that objective items can have a subjective quality and, in this case, a treasure of memories. I am very touched by the message of this poem and the artistry of the poet who wrote it.
Posted 04/29/2022 07:59 AM
Joan Luther:
What a treasure: this memory and the comfort that it continues to bring!
Posted 04/29/2022 07:23 AM
Larry Schug:
I find mini meditations beautiful images between every punctuation mark in this poem. I can feel intensity in these words.
Posted 04/29/2022 07:22 AM
Jccjccac@aol.com:
Beautiful tribute to an old friend.
Posted 04/29/2022 07:19 AM