It's an archaic, arguably thankless task,
like housework,
that must be done over and over.

When my mother died
and we dismantled her Savannah apartment,
my sister and I split up some of the silver and
sold some. She didn't want much.  
"It's too high maintenance.
Who has time to polish things? And if you
store it, what's the point?"

At the sink polishing, I feel close
to my mother, who loved her silver
with passion – as she did jewelry, shoes,
clothes, furniture, and paintings.

She cherished her mother's silver platter,
the tea set, the monogrammed sugar bowl
and creamer from Dad's grandparents,
the pitchers, the bowls, the plates,
the heavy silver flatware for twelve,
a wedding present to my grandparents.
Even by Southern standards, she had a lot of silver.

I stand at my sink in Maine polishing the silver cup
my elegant grandfather won for golf in 1935,
the pierced silver dish I remember from my
grandmother's dinner table. The heavy
silver candlesticks, a little battered,
have been in our family for a hundred years.

One of the few things I could do for Mom
when I visited during her last lonely year
without Dad was to polish some silver. It was
easy to do and made her world a little more right.

I rinse with hot water and dry with a soft cloth.
Everything gleams.  I set the cup and candlesticks
on my mantel, where they look just right.


From Be There or Be Square (Moon Pie Press, 2018).
Used here with permission.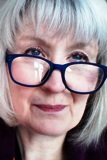 Alice N. Persons is the editor and publisher of Moon Pie Press, established in 2003, which publishes work by poets from all over the country and now has 119 books in its catalog. Author of five collections herself, Alice lives in Westbrook, Maine with two cats and a dog, all rescues, and serves on the board of the Animal Refuge League of Greater Portland. Alice loves painting, holidays, travel, baking, and Maine in all seasons.
Anastasia:
This is a perfect expression of how I feel when I polish my silver! Some of it is inherited, and some of it is acquired, but all of it carries memories that bring me joy and comfort as I do the work to brighten the pieces. Thank you!
Posted 05/04/2022 01:58 PM
Lori Levy:
Love how you feel connected to your mother through polishing her silver.
Posted 05/02/2022 01:45 PM
Jgonzalez 1994:
I love how you tie together all your relatives through the China.
Posted 05/02/2022 12:11 PM
NormaB:
You reminded me that I, too, would polish my moms silver when I was a teenager but never enjoyed the task. Now I own and love a cherished silver pitcher that belonged to my grandparents and then my parents!
Posted 05/02/2022 09:19 AM
Larry Schug:
This poem seems so well thought out, yet it carries many generations of emotions and tradition. It "exposes" an entire family for hundreds of years. Not maudlin, but thoughtful. Full of thought.
Posted 05/02/2022 07:54 AM
Joan Luther:
Polishing silver invites guests over to reflect on whats important: a gentle reminder of sophistication and tea parties as children for practice when were grownups. What a sweet poem about memories!
Posted 05/02/2022 07:30 AM