Smile a little, smile a little,
   As you go along,
Not alone when life is pleasant,
   But when things go wrong.
Care delights to see you frowning,
   Loves to hear you sigh;
Turn a smiling face upon her --
   Quick the dame will fly.

Smile a little, smile a little,
   All along the road;
Every life must have its burden,
   Every heart its load.
Why sit down in gloom and darkness
   With your grief to sup?
As you drink Fate's bitter tonic,
   Smile across the cup.

Smile upon the troubled pilgrims
   Whom you pass and meet;
Frowns are thorns, and smiles are blossoms
   Oft for weary feet.
Do not make the way seem harder
   By a sullen face;
Smile a little, smile a little,
   Brighten up the place.

Smile upon your undone labour;
   Not for one who grieves
O'er his task waits wealth or glory;
   He who smiles achieves.
Though you meet with loss and sorrow
   In the passing years,
Smile a little, smile a little,
   Even through your tears.


This poem is in the public domain.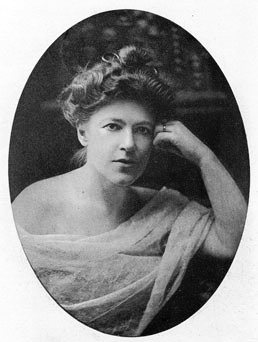 Ella Wheeler Wilcox (1850-1919) was a popular and prolific poet. Published and lauded before she even graduated from high school, Ella preferred to write happy, upbeat poetry and was much beloved for it. More than a dozen of her poems are included in the book, Best Loved Poems of the American People (Doubleday, 2008). The familiar saying, "Laugh and the world laughs with you, weep, and you weep alone. . ." comes from her best-known poem, "Solitude." A morally strong and spiritual person, Ella believed that her purpose on earth was to practice kindness and service. Read more about her here.
Arlene Gay Levine:
I say "yes" to Wilda, Darrell and David and add that I am big fan of Ella Wheeler Wilcox. Her words still bring uplift and inspiration to a world that needs it over all these years.
Posted 05/09/2022 03:20 PM
DavidTookey:
Loved this. A great reminder!
Posted 05/09/2022 09:16 AM
Darrell Arnold:
I'm a hundred percent behind Ella's philosophy. Be happy. Don't do stress. Own pets. My cats and dogs make me smile every day. And it's the time of the hummingbirds. Smiles all day long.
Posted 05/09/2022 08:44 AM
Wilda Morris:
A cheerful poem to start the day when the to-do list is long!
Posted 05/09/2022 08:17 AM