Above our front door
hangs a ferocious hunter
alarmingly large
seeming to stand in thin air.
She owns the porch. I concede.


© by Mary Lee Hahn.
Used with the authorís permission.
†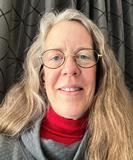 Mary Lee Hahn lives in Columbus, Ohio, and has taught either fourth- or fifth-graders for nearly 30 years. She is the author of Reconsidering Read-Aloud (Stenhouse, 2002), provided the educator activities for Why-ku: Poems of Wonder About the World (CreateSpace, 2015), and has had poems published in more than a dozen anthologies.
DavidTookey:
Great ending for a wonderful poem. Well done Mary!
Posted 05/26/2022 11:07 PM
Lori Levy:
Like the image, "seeming to stand in thin air."
Posted 05/26/2022 04:40 PM
VNesdoly:
Lovely poem. So nice to see you and your poem here, Mary Lee!
Posted 05/26/2022 11:49 AM
TheSilverOne:
Love this...A beautiful and necessary creature.
Posted 05/26/2022 09:03 AM
Larry Schug:
I am happy the spider is not removed or worse. A little example how we can live in this world without harming it and so well said poetically.
Posted 05/26/2022 07:49 AM