It makes more sense to me now
after watching the three baby robins nesting above my patio
than it did as I watched my own two grow and leave.
So much activity
open mouths
constant comings and goings
calls from parents announcing their arrival.
Whoever had their head raised the highest got the worm.
As they grew, squabbles for the top of the nest ensued.
Daily messes of scattered nesting material showed up below.
Then one morning
nothing.
An empty nest.
At most, it seemed that life consisted of routines, messiness, survival.
The void after
a sure sign it was so much more.


© by Angela Hoffman.
Used with the authorís permission.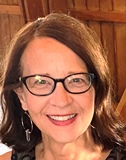 Angela Hoffman lives in rural Wisconsin. The pandemic and her retirement coincided, making the time ripe for writing poetry, so Angela committed to writing a poem a day during the pandemic. In addition to writing, she enjoys hiking, yoga, gardening, reading, finding treasures at second-hand stores, and spending time with her two grandchildren—"the best treasures of all," she confirms!
Anastasia:
Life is always so much more than it seems most daysthank you for the reminder, Angela.
Posted 05/28/2022 06:09 PM
Lori Levy:
Beautiful.
Posted 05/28/2022 02:28 PM
joecot:
Nice.
Posted 05/28/2022 12:05 PM
paradea:
Good one!!
Posted 05/28/2022 10:20 AM
Shoshauna Shy:
I enjoyed this, Angela!
Posted 05/28/2022 09:58 AM
KevinArnold:
No stanzas, no rhymes, no prosody, yet an intricately crafted poem. Brava.
Posted 05/28/2022 09:06 AM
Michael:
Angela has done what the best poets do: create something extraordinary out of the "nesting" material of the ordinary!! Nicely done, Angela.
Posted 05/28/2022 08:23 AM
Larry Schug:
First and last lines make a neat wrapping for the story inside.
Posted 05/28/2022 07:46 AM
jentsch:
Great ending! Thanks for sharing.
Posted 05/28/2022 06:46 AM