In his eighties
Pa took the saw
to one of his best
wooden spoons.
Made the end flat
to better cover the bottom
of the pan
when he made rice pudding.
I have it now.
It lends a little flavor
to everything I stir.


From Everyday Love (2014).
Used here with permission.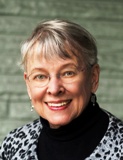 Peggy Trojan published her first poem when she was 77. (She's now 89.) Retired from teaching English, she lives in the north woods of Wisconsin next to a trout stream, where she writes and tends a raspberry patch so she can make jam. Peggy is the author of two full-length poetry collections and five chapbooks. Her newest release, PA, won second place in the 2022 Wisconsin Fellowship of Poets Chapbook Contest and is a finalist for the 2022 Northeast Minnesota Book Award.

Stephen Anderson:
This is a lovely tribute to your father, one thart reminds me of some of the tools that my father crafted that I still use.
Posted 07/21/2022 08:15 AM
herringfish:
Bill Herring: Love the elegant homespun simplicity of this poem, as well as the message it conveys to a seventy-something guy like me. That even with the best of thingstangible or intangibleits never too late for upgrades.
Posted 06/18/2022 06:43 PM
Janet Leahy:
Wonderful poem Peggy. have my mother's colander, used it today washing blueberries, nice to remember her hands holding this piece
Posted 06/16/2022 06:18 PM
CamilleBalla:
An unforgettable poem as I use cooking spoons. The last 2 lines are perfect!
Posted 06/16/2022 04:30 PM
Lori Levy:
Brevity with a lot of feeling.
Posted 06/16/2022 12:49 PM
Wilda Morris:
Wonderful miniature poem, Peggy!
Posted 06/16/2022 11:59 AM
KevinArnold:
Great last word. Wonderful.
Posted 06/16/2022 09:52 AM
cork:
I will have a special reverence for my flat ended wooden tool as I remember this poem.
Posted 06/16/2022 09:03 AM
RonPoems:
I love this simple, expressive poem that tells so much about a father. I have the heavy wire potato masher my grandfather made in his shop, roughly 100 years ago.
Posted 06/16/2022 09:00 AM
Sharon Waller Knutson:
I loved the wisdom in this sparse sensual poem but then I realize that the poet has that wisdom because she is 89 and didn't start writing poetry until she was 77. I can see her father sawing the spoon, stirring the rice pudding and her tasting her food after stirring it with the spoon she inherited from her beloved father. Poem shows food is love.
Posted 06/16/2022 08:55 AM
Shoshauna Shy:
Very skillful use of simplicity. You conveyed texture, heft, flavor and love all in one scoop!
Posted 06/16/2022 08:27 AM
Joan Luther:
Such a lovely sentiment! The ending is perfect.
Posted 06/16/2022 07:58 AM
Larry Schug:
The inheritance of a cooking spoon is an amazing phenomenon. I use my mother's mixing bowl and feel the presence of her hands.
Posted 06/16/2022 06:51 AM
Rob:
Great memory. Love the image/symbol of the spoon!
Posted 06/16/2022 05:22 AM