To the unshaven dad, barefoot at
the stove, frying an egg over-easy
for your small daughter, to whom,
when asked why were you whistling,
confessed, Because I am happy.
 
And it wasn't like you had to explain
how well you'd slept, or that you loved
her mama, or the stock market flourished
the day before, when what you did say
 
was everything – because I know
this daughter, and any morning she wakes up  
in your house, or her house, or any house,
to a breakfast with a pan of eggs,
 
she holds an unconscious, buttery blend
of memory – her part in the golden yolk
of your happiness.


This poem first appeared in Fictional Café.
Used here with permission.
Shoshauna Shy began writing at the age of eight on a manual Olivetti. She spends her days reading and writing poetry, flash fiction, and plays, copy editing for businesses, and running a cat care service. Shoshauna is the author of five books and the founder of Poetry Jumps Off the Shelf and the Woodrow Hall Top Shelf Awards.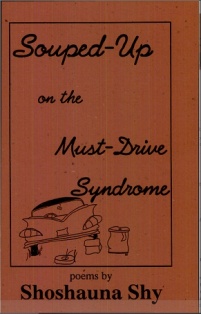 paradea:
Excellent!!!
Posted 06/27/2022 03:57 PM
Lori Levy:
So beautiful and loving.
Posted 06/18/2022 05:15 PM
pwax:
Beautiful, Shoshauna!
Posted 06/18/2022 04:00 PM
Stephen Anderson:
Love cant help but exude from that kitchen image! Nice poem!
Posted 06/18/2022 01:22 PM
CamilleBalla:
Wonderful memory preserved in poetry.
Posted 06/18/2022 01:06 PM
Glen Sorestad:
Oh my! What a great start to the day! Thank you, Shoshauna.
Posted 06/18/2022 12:02 PM
Sharon Waller Knutson:
I'm a big Shoshauna Shy fan. I love love love this uplifting picturesque sensuous poem perfect for Father's Day. These images were brilliant: buttery blend of memory her part in the golden yolk of your happiness. I can see the barefoot unshaven dad, hear him whistling, and taste the buttery fried egg.
Posted 06/18/2022 11:14 AM
KevinArnold:
A buttery blend indeed.
Posted 06/18/2022 09:43 AM
VNesdoly:
buttery blend of memory Just gorgeous! Beautiful poem.
Posted 06/18/2022 09:06 AM
njc:
Oh my, this is one goes straight to the heart of everything.
Posted 06/18/2022 08:47 AM
Rob:
Lovely scene, images, and poetic reflection upon them!
Posted 06/18/2022 06:34 AM