—for Sean, age 5
Cyrus the iris woke up one day
to the sound of a buzzing alarm
that was sung by a bee who sat patiently
at the end of his leafy green arm.

He opened his eyes and let go a yawn
as he stirred from his dreamy deep slumber,
then he noticed the dawn glowing over the lawn,
and he thought, Oh, heavenly thunder!

Have I overslept? No, this couldn't be!
he cried with a panicky tune.
Oh, what shall I do? The spring's nearly through!
Why, it's nearly a quarter past June!

The flowers around him snickered and giggled
and laughed as he rose from his bed,
and the buttercups jeered through their gold-petalled beards,
Look, it's Cyrus, the old sleepyhead!

The tulips taunted poor Cyrus the iris
over and over again,
and a crocus called out with an ear-piercing shout,
Hey Cyrus! Dude, where have you been?

Those early spring flowers made Cyrus feel sad
as the sun continued its climb,
but they didn't know that some flowers grow
in their own perennial time.

Some appear early, and some will come late,
it's a fact that nature makes true,
and it's not nice to tease or put ill at ease
someone who's different from you.

Some flowers bloom red, some yellow, some blue
whenever they're called to appear,
and some will grow tall, and some remain small
at various times of the year.

But that's what makes this garden of ours
exciting, inviting and bold.
For the difference, you see, between you and me
is a beautiful thing to behold.


© by Bill Herring.
Used here with the author's permission.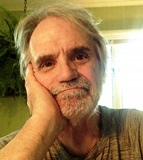 Bill Herring co-wrote his first poem with his friend, Mark, when they were in the third grade. It was to be on the front page of The Greenwood Gazette, their elementary school newspaper. However, when his friend turned it in, he failed to give Bill authorship credit; only Mark's name appeared. As a result, Bill quit writing poetry for the next twenty-three years. His first published poem appeared in Full-Time Dads magazine in January of 1996. Never known for consistency ,he admits, his second published poem appeared in the spring of 2021. Now he's on a roll. Bill lives in Minnetonka, Minnnesota.
CamilleBalla:
Great rhythm and rhyme and message. It speaks to all ages, lest we forget. 😉 keep writing, Bill!
Posted 06/26/2022 10:10 AM
MLove:
Oh this was just fabulous! I agree with everyone else.. make it your FIRST children's book with many more to come.
Posted 06/24/2022 02:36 PM
Joan Luther:
Wonderful meaning here!
Posted 06/23/2022 10:04 PM
paradea:
Absolutely love this poem. Can't wait to read it to my great-grandchildren, ages 6 and 9!!!
Posted 06/23/2022 05:22 PM
mail@schoolbusmart.com:
Hurray for Cyrus, that wonderful Iris, and hurray for summer and spring. Hurray for Bill Herring, his words so endearing, and the great message he brings!
Posted 06/23/2022 03:55 PM
Patricia Williams:
Yes, start looking for a children's book publisher!!! Teriffic story. Patricia Williams
Posted 06/23/2022 01:36 PM
Sharon Waller Knutson:
I loved this delightful picturesque children's poem. The title was perfect and my first stanza yanked me into the poem and kept me there until the last line. Favorite image: Cyrus the iris woke up one day to the sound of a buzzing alarm that was sung by a bee who sat patiently at the end of his leafy green arm.
Posted 06/23/2022 12:17 PM
Adriana:
fun and sweet - made me tear up - would be a lovely (children's) book -
Posted 06/23/2022 11:58 AM
Lori Levy:
Great rhythm, rhyme, and message.
Posted 06/23/2022 11:50 AM
KevinArnold:
Indeed, its quarter past June.
Posted 06/23/2022 10:03 AM
cork:
This poem must be read aloud!
Posted 06/23/2022 09:31 AM
Gilbert Allen:
Delightful!
Posted 06/23/2022 09:12 AM
Michael:
Wonderful piece, Bill. I especially like your internal rhyming skills. As Jayne avers, "This is perfect for the occasion."
Posted 06/23/2022 08:52 AM
Darrell Arnold:
This poem could be, and I hope will be, someday, the text of a children's book. It's a delightful, rhyming story that teaches a valuable lesson. Kudos, Bill. This is wonderful. If I had written it, I'd be looking for an illustrator and a publisher.
Posted 06/23/2022 08:36 AM
vortex:
Love this! Can't wait to share.
Posted 06/23/2022 08:12 AM
Larry Schug:
Very nice work. Rhythm and rhyme forever! Perfect for a five year old.
Posted 06/23/2022 07:25 AM