Standing by the elephantine base
of the giant sequoia, we are dust
motes in the giantís shadow.

Shaggy red bark bears scars of
wildfires perhaps a thousand years
old. Craggy branches the size of

stout trees sprout one hundred
feet up the trunk; feathery tufts
of greenery veil the sky.

Our necks stiffen looking up
at the giants, trying to grasp their
immensityó their solid mass

magnified from our ground vantage.
We try to imagine how many
of us would be able to grasp hands

around the giantís baseóten, twenty,
more?† But the fence protecting
its shallow roots stops us from

rushing to join hands and dance.
The giants have lived 2,000 years. Now
people and climate make their impactó

air pollution, drought, and fierce fires †
prevail. At this very moment, we
smell smoke.


© by Norma Wightman.
Used with the authorís permission.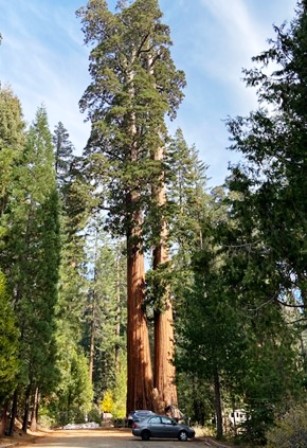 Photo credit: Norma Wightman
†
†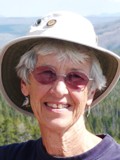 Norma Wightman lives in Morro Bay, California, where she walks the beach daily, leads nature hikes in local state parks, and enjoys yoga, kayaking, and birding around the beautiful central coast. Norma's poems†have appeared in local publications and art exhibits†and she has published chapbooks for family and friends. Her inspiration, she says, comes from†everyday items and nature.
†
†
Lori Levy:
The last line brings out the danger that threatens all this beauty.
Posted 07/25/2022 10:32 AM
NormaB:
Thank you for paying homage to these spectacular trees!
Posted 07/25/2022 09:29 AM
cork:
There is magic in trees.
Posted 07/25/2022 09:16 AM
Darrell Arnold:
What impresses me most about the sequoias, and I, too, have stood among them and marveled, is that each one of them started as a seed, no larger than a thumbnail. Add water, add sunshine, add mineral rich soil, add CO2 from the air, and, somehow, these simple things, can (through Divine engineering) create and become a living thing, that, over time, has been able to increase its own size until it is a 2,000+ year-old giant, still thriving and still growing. How can that happen? Unbelievable, miraculous, illogical even, yet there each one stands! Almost something from nothing. Astounding!
Posted 07/25/2022 08:31 AM
Larry Schug:
The last words of this poem are ominous--a warning, a mourning, a call to action. Thank you.
Posted 07/25/2022 06:17 AM