At tree-line
Columbines bloom
In Sam Mack Meadow,
Their butterfly flowers
Lifting sunlight wings
To the glacier above.
†
They rest
Where I cupped my hand full
Of spring snow,
Letting it trickle
Between my fingers
To give them birth.


© by Robert Walton.
Used here with the authorís permission.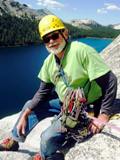 Robert Walton is a retired middle school teacher and a lifelong rock climber with many ascents in the Sierras and Pinnacles National Park. His publishing credits include works of science fiction, fantasy, and poetry. Robert's historical novel, Dawn Drums, won the Tony Hillerman Prize for best fiction in the 2014 New Mexico Book Awards. Most recently, his book, Joaquin's Gold, was published as a paperback and a Kindle eBook. It offers fictional adventures about the famous California bandit, Joaquin Murrieta. Learn more about Robert at http://chaosgatebook.wordpress.com/.
Wilda Morris:
Lovely. Wonderful last line.
Posted 10/03/2022 12:28 PM
Anastasia:
Beautiful images! Thank you, Robert!
Posted 09/28/2022 05:12 PM
Lori Levy:
Beautiful image of columbines and glacier.
Posted 09/24/2022 11:02 PM
waldo47:
P.S.I forgot to mention that I'll put the photo on my website if you want to take a peek..
Posted 09/24/2022 07:33 PM
waldo47:
Thanks for your comments. Wayne Thompson, friend and climbing partner, snapped a photo of me while I was writing the rough draft if this poem. It took thirty years or so to get it right.
Posted 09/24/2022 07:32 PM
jentsch:
Very nice! Columbines and snow are a great combination.
Posted 09/24/2022 02:27 PM
cork:
My hands are cold!
Posted 09/24/2022 09:20 AM
Michael:
Nicely done, Robert. How many of us get close enough to glaciers to literally touch them? Way cool!!
Posted 09/24/2022 08:53 AM
Larry Schug:
The discovery of small beauties is a gift of grace fit for a short poem..
Posted 09/24/2022 08:00 AM