May a darting ruby-throated
hummingbird chase away
the blues while you sip
a steaming cup of java,
as the sun casts shades
of yellow on the kitchen walls.

May a cooing dove
soothe your mind
as you nibble the edges
of a chocolate croissant,
watch the moon depart
over the western horizon.

May an eastern bluebird
inhabit every cranny of your life,
its song the soundtrack,
its blue and rust the colors
of your sunlit day.


© by Peter A. Witt.
Used with the authorís permission.
†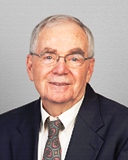 Peter A. Witt is a Texas poet and a retired university professor. An active birder and photographer, he started writing poetry as a way to survive pandemic isolation. Peter has published two volumes of poetry and his work has appeared in a variety of venues.
†
Jancan:
Such beautiful wishes for your readers--and so poetically expressed
Posted 09/26/2022 11:34 PM
mail@schoolbusmart.com:
Thanks for the nice and illustrative wishes.
Posted 09/26/2022 09:55 PM
RonPoems:
Thank you for three fantastic images.
Posted 09/26/2022 01:01 PM
Lori Levy:
Very soothing.
Posted 09/26/2022 12:12 PM
paradea:
Beautiful poem.
Posted 09/26/2022 09:37 AM
Sharon Waller Knutson:
What a delightful uplifting poem to start the day. Every morning I see a "darting ruby-throated hummingbird" hovering at my kitchen window and hear a cooing dove but I don't see any eastern bluebirds except in my imagination.
Posted 09/26/2022 09:33 AM
Michael:
Want to sit in my outside swing and wait for a bird to land on my shoulder, Peter! So well done.
Posted 09/26/2022 09:30 AM
cork:
I am drinking java from a speckled blue cup.
Posted 09/26/2022 09:15 AM
Sara McNulty:
What a glorious poem, Peter. You touched me on a particularly difficult day. Thank you.
Posted 09/26/2022 08:53 AM
Angela Hoffman:
Such a soothing gift this morning!
Posted 09/26/2022 08:49 AM
NormaB:
I love the rhythm of this poem and of course, the beautiful images.
Posted 09/26/2022 08:44 AM
Larry Schug:
Thank you for the well said good wishes, Peter. Any poem with birds touches my spirit.
Posted 09/26/2022 08:19 AM