My mother's Mr. Coffee,
four cups in all, enough
for both of us, gurgling a good morning
from her galley kitchen counter
when I'd come for overnights;

my Yaya's stainless steel pot
on the front burner of her stove
when I was a girl at her table,
the dark liquid popping and burbling up
as if silently singing into the clear glass knob
and waiting to be poured, black with
a dollop of whole milk--nothing fancy
or pressed or flavored, only itself
like a staple of love.  


From Marrow of Summer (Kelsay Books, 2021).
Used here with permission.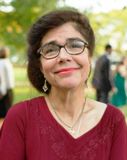 Andrea Potos, who writes in longhand, is a longtime independent bookseller and the author of numerous books; her latest, Her Joy Becomes, is forthcoming from Fernwood Press in November. Andrea loves reading, travel, cafes, and walking beside lakes and on green trails—"of which there are many," she says, in Madison, Wisconsin, where she lives. Andrea's Greek grandparents and their spirit have been an abiding presence and inspiration throughout her life and poetry.
v
Magyar:
I love this. My mother had a coffee pot like this and I had the Mr. Coffee. I kept my moms wooden spoons and many embroideries and huge spoon and fork she used as a child but not her coffee pot as I did not drink it again until Covid. We need to find someone who wants to do an anthology of poets who write about immigrant ancestors! I have all your books and love them. Similar experiences.
Posted 10/03/2022 04:44 PM
Wilda Morris:
I love "gurgling a good morning" and "only itself like a staple of love." Well-done!
Posted 10/03/2022 11:16 AM
CamilleBalla:
Oh, how I like this poem! So warm and cozy. Gurgling a good morning. Im going through things to to sell or give away. I just might put back the Corningware coffee pot that was my moms for the sake of memories. This poem is very inspiring. Thank you, Andrea.
Posted 10/01/2022 01:07 PM
Lori Levy:
Beautiful memories.
Posted 10/01/2022 12:13 PM
RonPoems:
Silently singing into the clear glass knob
Posted 10/01/2022 10:09 AM
cork:
I remember the clear glass knob singing!
Posted 10/01/2022 09:42 AM
Angela Hoffman:
Only itself like a staple of love! I went back to the basic Mr. Coffee after trying the fancy! Love this poem
Posted 10/01/2022 09:05 AM
Joan Luther:
A staple of love..ahhhhhhhh, what a feeling from a cup
Posted 10/01/2022 08:12 AM
Larry Schug:
Memories are kept in the most unlikely places. Good job of paying attention, Andrea.
Posted 10/01/2022 07:40 AM