Today I had a startling revelation
Iím only good for lunch
I start off rather slowly in the morning
Gingerly getting out of bed
Assessing the pain du jour
It may be a stiff back or a sore shoulder
The sunrise offers surprises

I do small things in a labored way
While others are climbing Mount Everest
I am struggling to pull up my underpants
Hoping to keep my balance, avoiding a fall
After my aching body gets moving
I carefully make the bed, put in a load of wash,
answer emails, pay some bills, and eat lunch

Now I am at my peak, feeling like a real person
My energy is at its best, improving my outlook
I can take a walk, go shopping, see friends
By 5 oíclock Iím wasted, energy drained
Dreading the wash which I forgot to put in the dryer
And the garbage which must be taken to the street
Wanting no more than a good book or TV show
Itís become painfully obvious that in my golden years
Iím only good for lunch


© by Jane H. Fitzgerald.
Used with the author's permission.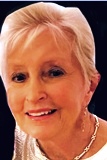 Jane H. Fitzgerald lives in Jupiter, Florida. A retired middle school history teacher, she's a big believer in experiential learning and once developed a hands-on, role-playing curriculum for the American Colonial period. Jane loves interacting with children but has also taught English to adult Hispanic immigrants. The author of four books of poetry, her work has been featured in numerous journals.
Magyar:
Love this, but unlike other women, I wake up, have my coffee and go to my office to work on a new poem until I am tired. Then I do laundry, get dressed, or not, and pay bills, or not. I feel like you dolimited energybut insist mine go to writing. Love your honesty. Lets have lunch!
Posted 10/03/2022 04:56 PM
Lori Levy:
Love the humor--and wisdom--in this poem.
Posted 10/03/2022 01:47 PM
Michael:
Jane, I have a seniors event coming up at church. Think I will share if for many laughs. Thank you!
Posted 10/03/2022 12:55 PM
Wilda Morris:
Too true! Thanks for sharing.
Posted 10/03/2022 11:12 AM
Jancan:
This poem so vividly describes~~ME, point by point! It will resonate deeply with those who have arthritis and other physical problems.
Posted 10/03/2022 09:40 AM
KevinArnold:
What fun! But only partially true, I'm sure.
Posted 10/03/2022 08:24 AM
Jccjccac@aol.com:
Im right there with you. I too wake up with a new daily pain which I ignore because its gone by noon. A great reminder of what we all share in aging.
Posted 10/03/2022 07:56 AM
Joan Luther:
I relate! Waking at age 19. By noon, 58. At bedtime 99. A day well spent at my best: lunch.
Posted 10/03/2022 06:46 AM
frankmolteno:
My wife and I being also in our 'golden years' your poem made me smile - indeed I enjoyed a good chortle over it. Thank you :)
Posted 10/03/2022 05:29 AM