I have reached the age at which
my life story has faded into legend,
a tale for my grandchildren.

Already they wonder that
I dialed a phone and once
had to talk and not text.

They marvel that I wrote letters
and that news came by paper,
often a week after the fact.

Someday they will tell their own tales
of typing texts by thumb and
dreaming of driving before that too ceased.

These stories from the generations
flow into the river of legacies
that bear our common memory,

diluting each but growing deeper
and richer with each passing age and
yet through such we may never fade away.


From The Funny Thing About a Poem (2019).
Used here with permission.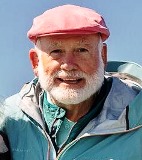 Randy Cadenhead is the author of a number of books of poetry and prose, most recently At Sea, about life on the water, and A Christmas Carol Refrain, which explores the later life of Ebenezer Scrooge. Although he teaches at Emory Law School, you are more likely to find Randy sailing somewhere in search of the perfect sunset. Randy lives in Decatur, Georgia; learn more about him at www.randycadenhead.com.
.
Anastasia:
My grandmother's town used to have a streetcar system that intersected with that of the other nearby small towns. It was possible to go quite a distance on one streetcar ticket, and no driving stress, in less time than it now takes us to drive the same route, even though we have highways!
Posted 10/09/2022 04:40 PM
Lori Levy:
Great beginning, and I like the idea of the river of legacies.
Posted 10/05/2022 04:08 PM
Wilda Morris:
My grandmother traveled by covered wagon as a child and by jet plane in her later years. Things do change quickly, don't they! You made me think about what might change during my children's and grand-children's lifetimes.
Posted 10/05/2022 10:35 AM
paradea:
Yes. We'll miss out on worldly things to come, but what miracles we have seen!! Love the poem!
Posted 10/05/2022 10:17 AM
KevinArnold:
You nailed the landing: yet through such we may never fade away.
Posted 10/05/2022 09:23 AM
Michael:
Never fading away . . . that is what is wonderful about legacies! So well written, Randy. Congratulations.
Posted 10/05/2022 09:23 AM
cork:
My childhood home had a coalbin and an outside door for ice deliveries. Freezing temperatures popped the lids on the milk bottles. Phone numbers were two letters plus four digits.
Posted 10/05/2022 09:14 AM
Larry Schug:
The most important thing is that the story remains, no matter how it is told.A thought provoking poem, indeed.
Posted 10/05/2022 08:33 AM
mail@schoolbusmart.com:
Oh, the things they will have missed out on. Especially the thrill of driving. But then again, the things we will miss out on unimaginable in the present. Nice piece. Randy Mazie
Posted 10/05/2022 07:00 AM