She's out again at the lawn's edge
in her shorts, hose with the special
plant food attachment, gardening
gloves soaked, water having run down
the soft white curves of her forearm.
In the grass by her feet, a pile
of tangled roots and damaged stems.
She has planted the mums beside
her favorite hydrangea
in these still-warm days of autumn.
Almost kneeling, she takes a bloom
into her palm, inches closer,
her lips touching the pink blossom
the way I would sometimes kiss her
bare shoulder. Watching from the porch,
I see her calves tense as she steps
back like a satisfied artist.
I would love to call out to her,
or gently approach as she works.
But she squeezes the nozzle then,
and I am sent away wishing
I deserved the snugness of that touch.   

This poem first appeared in Chiron Review No. 107 (Spring 2017)
and then in the collection House Bird (Terrapin, 2022).
Used here with permission.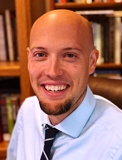 Robert Fillman is the author of House Bird (Terrapin, 2022) and November Weather Spell (Main Street Rag, 2019). His poems have appeared in a variety of venues. Robert holds a Ph.D. in English from Lehigh University and teaches at Kutztown University. Learn more about him at www.robertfillman.com.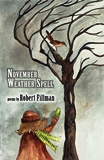 Lori Levy:
Beautiful and tender.
Posted 10/14/2022 05:10 PM
Sharon Waller Knutson:
I love this picturesque, sensuous love poem. These images are superb: the soft white curves of her forearm, her lips touching the pink blossom the way I would sometimes kiss her bare shoulder and her calves tense as she steps back like a satisfied artist.
Posted 10/14/2022 02:54 PM
tiddles:
Beautiful. MZWindau
Posted 10/14/2022 01:54 PM
KevinArnold:
Snugness yes.
Posted 10/14/2022 09:12 AM
PmReid:
Beautifully sensual poem.
Posted 10/14/2022 08:11 AM
Angela Hoffman:
Yes, I agree it is a beautiful love poem!
Posted 10/14/2022 07:21 AM
mail@schoolbusmart.com:
Very nice piece. Delicate and sensuous.
Posted 10/14/2022 06:25 AM