Old man winter blasted into
our valley last night.
He didnít give us a chance
to get acquainted again,
become accustomed
to his bleak personality.
He didnít even bother to wait
until his appointed arrival date
or postpone his arrival and give us
the beloved white Christmas.

We might have welcomed him later,
though not with open arms,
but he likes to catch us by surprise,
swoop down into the woods,
shake leaves from the trees,
watch our distress with delight,
his laughter producing
bone-chilling gusts
to taunt and torment us
as we rush to get indoors,
away from his premature presence.


© by Melanie Harless.
Used with the authorís permission.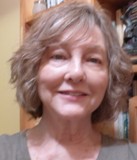 Melanie Harless is a retired school librarian who enjoys writing, photography, and spending time with her grandchildren. She wrote a monthly travel column for a regional magazine for a few years and her creative nonfiction, poetry, and photography have been published in anthologies and print and online magazines. Melanie, who lives in Oak Ridge, Tennessee, is on the board of Tennessee Mountain Writers and is a volunteer trip coordinator for the Oak Ridge Institute for Continued Learning. She and her husband, Jim, will celebrate 56 years of marriage in May.
†
Jancan:
Superb use of personification! Janice
Posted 11/10/2022 08:49 PM
Stephen Anderson:
This poem is as good of a poem of bittersweet feelings about Nature that I have ever read.
Posted 11/10/2022 10:38 AM
Lori Levy:
Great personification of winter.
Posted 11/09/2022 04:55 PM
cork:
I love the clarity!
Posted 11/09/2022 10:16 AM
Tracers645:
Great poem! She perfectly describes the beginning of Winter. I love it!
Posted 11/09/2022 09:50 AM
Larry Schug:
I agree with Darrell. Winter makes everything more difficult and as is accurately and poetically described in this poem, winter does not care. It even laughs at us puny, whining humans.
Posted 11/09/2022 09:00 AM
Darrell Arnold:
I appreciate Melanie's poem. Winter can get mean and ugly. I had a rural mail route over a Colorado Pass for a few years. Holy Moly! I have lived in winterish country most of my life, and I've never grown to like it. There are many, the skiing, and snowboarding, and ice-fishing crowd who embrace it. I've never been able to relate to those weird people.
Posted 11/09/2022 08:47 AM
paradea:
Oh yes!!!
Posted 11/09/2022 08:07 AM
Wilda Morris:
Melanie, you tell it like it often is! Good poem.
Posted 11/09/2022 07:50 AM