Things is pickin' up as most folks knows,
So I sent to town fer to git new clo'es.
Some onderwear and a big hat box,
A couple of shirts and a passel of socks.

Some overalls and other truck,
Three red bandannys throwed in fer luck.
My boots ain't new, but they'll do right well.
I reckon I'll make them last a spell.

I'll be the pride of the whole derned spread.
With a fust class Stetson on my head.
A bran' new slicker tied on behind--
It's strange how yore clo'se improves your mind.

Nice new clo'es purtects the hide
And sorter contents a man inside.
Clo'es does a heap toward makin' the man.
Try goin' without and you'll onderstand.


© by Bruce Kiskaddon
Used here with the author's permission.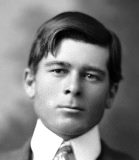 Bruce Kiskaddon (1878 - 1950) was born in Pennsylvania, but he eventually moved to Southern Colorado. He started working as a cowhand when he was 20 years old, riding ranges in the American Southwest and, for a while, in Australia. Coming up with jokes and jingles was a routine part of spending a day on horseback; Bruce compiled some of his wit into a book which was published in 1924. A couple of years later, hearing there were jobs in Hollywood riding horses in the movies, Bruce and a few buddies headed for L.A. Observing how much bellboys got paid for delivering whiskey to the cowboys staying at area hotels, he decided to add that was a job worth pursuing. Bruce spent the last third of his life dividing time between bellhopping and cowboying—including the chance to drive a chariot in the original silent version of Ben Hur. Meanwhile, he kept submitting and publishing poems. Bruce's style of writing about the real facts of cowboy life, rather than a romanticized version, has made him one of this genre's most popular practitioners.
Anastasia:
What a fun poem! And yes, one always feels better in a nice new outfit!
Posted 05/14/2023 10:50 PM
Wilda Morris:
Surprise ending!
Posted 01/19/2023 09:56 AM
Michael:
Love the unique cowboy brogue in this poem. Reminds me of James Whitcomb Riley. This is a great series, Jayne.
Posted 01/19/2023 09:53 AM
cork:
I love that word "passel."
Posted 01/19/2023 09:37 AM
Darrell Arnold:
Kiskaddon's subtle, and yet obvious humor is the kind that cowboys thrive on. A wry look at their daily activities and situations is part and parcel of cowboyin'.
Posted 01/19/2023 09:01 AM