Bright glaring gold—
A raucous fellow
Shouting color! color!
You are a canvas by
Van Gogh.
With broad, bold strokes
He snatched your yellow
From the sun.
There is a madness in you,
I suspect, that one of you
Has borrowed from
The other.


© by Marilyn Fais.
Used here with the author's permission.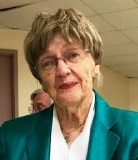 Marilyn Fais is a retired elementary school teacher who wove her delight in both words and the natural world into the lives of her students and through her own life, as well.  Even while mothering three daughters, building a family cabin on reclaimed, lumbered land in Pennsylvania, and taking summer camping trips (including one in a canoe built by her husband of 60 years) down the Missouri River, Marilyn always wrote poetry. Her work has been published in a variety of anthologies and magazines, but her family most treasures the yearly birthday and valentine poems she continues, now in her 90s, to write.
Anastasia:
What a wonderful word picture! Thank you, Marilyn!
Posted 04/19/2023 03:26 PM
Arlene Gay Levine:
Bravo, Marilyn! I adore the last four lines and will never look at Forsythia in quite the same way.
Posted 04/18/2023 01:51 PM
CamilleBalla:
I will remember this poem the next time I see a forsythia as I think of the color and its connection between poet, artist Van Gogh, and creation.
Posted 04/18/2023 01:40 PM
Lori Levy:
Beautiful, vibrant poem. And impressive bio.
Posted 04/18/2023 01:33 PM
Denise:
Thank you Marilyn for painting words for a Van Gogh.
Posted 04/18/2023 11:16 AM
joecot:
In high school I had a math teacher who swore, on crazy days, she was turning into a forsythia. But she was upbeat, never got the blues...
Posted 04/18/2023 11:05 AM
Sharon Waller Knutson:
I love this bright photographic poem with its unique metaqphor. I can see the glaring gold flowers and Van Gogh going crazy with colors on his canvas.
Posted 04/18/2023 10:52 AM
Kelly Scott:
Thank you Marilyn. Such a powerful poem with glorious words.
Posted 04/18/2023 10:19 AM
peggy.turnbull:
Wonderful to share the joy of the forsythia with you.
Posted 04/18/2023 10:02 AM
Jancan:
Superb use of personification!
Posted 04/18/2023 09:47 AM
Janice Galt:
Forsythia- just to say it and breathe into the word is to love it. And this poem about it!
Posted 04/18/2023 09:28 AM
Wilda Morris:
Love it!
Posted 04/18/2023 08:54 AM
liz dolan:
Delightful, Marilyn. Liz
Posted 04/18/2023 07:46 AM