Life is a gift to be used every day,
Not to be smothered and hidden away;
It isn't a thing to be stored in the chest
Where you gather your keepsakes and treasure your best;
It isn't a joy to be sipped now and then
And promptly put back in a dark place again.
Life is a gift that the humblest may boast of
And one that the humblest may well make the most of.
Get out and live it each hour of the day,
Wear it and use it as much as you may;
Don't keep it in niches and corners and grooves,
You'll find that in service its beauty improves.


This poem is in the public domain.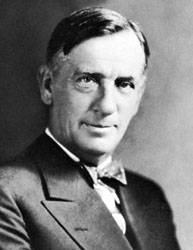 Edgar Guest (1881 - 1959) was born in England, but moved with his family to Detroit, Michigan, when he was ten years old. He worked for more than sixty years at the Detroit Free Press, publishing his first poem at the age of seventeen, then going on to become a reporter and columnist whose work was featured in hundreds of newspapers around the country. Edgar is said to have written some 11,000 poems during his lifetime, most of it sentimental, short, upbeat verse. Critics often derided his work, but America adored him. He was known as the "People's Poet," served as Michigan's poet laureate, hosted a long-running radio show and TV show, and published more than twenty books.
Anastasia:
An excellent choice for today, Jayne! It's a beautiful spring day, and there's so much to enjoy by simply standing in one's doorway and breathing the air!
Posted 04/30/2023 03:13 PM
cork:
Edgar is the poet who has had the most influence on my own poetry. I was exposed to his poetry growing up in Detroit.
Posted 04/30/2023 09:39 AM
KinVT:
Amen
Posted 04/30/2023 08:21 AM
Darrell Arnold:
Live a good life, enjoy it to the fullest, and, whenever you can, share it with others in a positive way. That is the message I take away from Mr. Guest's poem. What a great poem to wrap things up.
Posted 04/30/2023 07:50 AM