Slippers—taken,
plush robe, too: goose-
bumped flesh damping
remote-work ardor.
Sabotage. Conspiracies.
What next in their playbook
to frustrate his plans?

Toothpaste smear on toilet lid—
nowhere's sacred.
Breakfast bar froot-looped,
coffee pot, juice jug,
milk carton drained,
the path to his study
a minefield of toys
cloaked in grape jelly.

He's through to safety!
Hand to his chair,
butt to the seat—here, too:
laptop booby trapped,
a one-thousand-one piece
starship parked on its lid,
laser cannons poised

but he'll not be deterred.
Carefully, carefully,
the starship moved to dry dock,
he opens his laptop,
quicksilver spreadsheet solutions
coursing to his fingertips—
they've bled the battery dead.


© by Darrell Petska.
Used with the author's permission.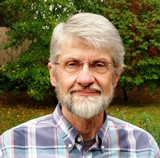 Darrell Petska is retired from a 30-year career as publication editor for the University of Wisconsin College of Engineering. He also spent time doing psychiatric casework and nursing home social work; through it all, he has written poetry. His work—which includes fiction as well as poetry—has been widely published. Father of five and grandfather of six, Darrell lives in Middleton, Wisconsin with his wife of more than 50 years. Learn more about him at conservancies.wordpress.com.
Wilda Morris:
Wonderful details.
Posted 06/11/2023 09:00 AM
Leslie Hodge:
such a fun poem!
Posted 06/09/2023 08:09 PM
Lori Levy:
I can see it all clearly!
Posted 06/09/2023 04:21 PM
Arlene Gay Levine:
Underneath the marvelous craft and wit, the light of your wise heart shines through...Well done, Darrell.
Posted 06/09/2023 11:38 AM
David:
Very nice imagery and selection of details. Well done.
Posted 06/09/2023 09:23 AM
peggy.turnbull:
I am happy I read this, That ending gave me a smile.
Posted 06/09/2023 09:02 AM
Angela Hoffman:
Love this Darrell!
Posted 06/09/2023 08:34 AM