The last piece of lemon pie rests,
Fat and voluptuous,
In the pie plate
Now licked clean--
Not by the cat,
I hope.
Should angelsí wings
Be made of spun sugar
This meringue
Would fly to join them.
Sunshine yellow filling
Pledges tongue-tingling
Delight.
And the crust--
Ah, the crust!
Itís a big piece, too,
Though to split it would be a sin
Against perfection--
And itís alone
With me
And the vase of roses,
But son Jon, I know,
Wants a second piece.
†
Here he comes!


© by Robert Walton.
Used here with the authorís permission.
†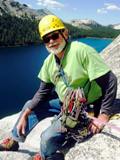 Robert Walton is a retired middle school teacher and a lifelong rock climber with many ascents in the Sierras and Pinnacles National Park. His publishing credits include works of science fiction, fantasy, and poetry. Robertís historical novel,†Dawn Drums, won the Tony Hillerman Prize for best fiction in the 2014 New Mexico Book Awards. Most recently, his book, Joaquin's Gold, was published as a paperback and a Kindle eBook. It offers fictional adventures about the famous California bandit, Joaquin Murrieta. Learn more about Robert at††http://chaosgatebook.wordpress.com/.
†
†
†
Wilda Morris:
Your poem made me hungry!
Posted 06/20/2023 05:35 PM
waldo47:
Im glad you enjoyed my poem and hope youll all soon have pie to savor! P.S. Darrell, your father is the best of Dads, a model for us all!
Posted 06/16/2023 02:23 PM
Larry Schug:
Hmmm...Six boys, no pie left, which may explain why I become the pie maker of our extended family--apple pie from the back yard tree and pumpkin pie from pumpkins harvested from our garden is the exclamation point to our family Thanksgivings.
Posted 06/15/2023 06:27 PM
Lori Levy:
Great. Sounds so tempting.
Posted 06/15/2023 01:57 PM
RonPoems:
This is not about pie, and I love it.
Posted 06/15/2023 12:18 PM
cork:
Lemon meringue is my favorite.
Posted 06/15/2023 10:23 AM
Darrell Arnold:
I can identify with this, but from the son's point of view. There was often one piece of pie left on the pie plate, and Dad would see me eyeing it, and he'd say, "I'll wrestle you for it." I loved my dad, and I'd say, "You eat it," and he'd always slice it in two, and we'd finish it off, together.
Posted 06/15/2023 08:26 AM