Always an embarrassment, my father,
a bow-tie guy and president for Pete's sake
of the Daffodil Society. So when he fenced
a corner of the yard and filled it
with yellow bouquets wilted and moldy,
with grass clippings and corn shucks
wafting an odor like a stinky old sponge,
it was another sad fact to hide about my family
until the dry winter day I saw steam rising.

With my best friend I jumped in,
made burrows, caves,
prairie dogs in a warm hill of decay
spreading chaos which my father
must have cleaned later.

Some gone days
like wilted bouquets
grow warm.


This poem first appeared in the One Good Memory series (Silver Birch Press ).
Used here with permission.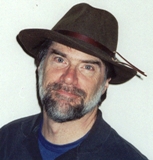 Joe Cottonwood is a semi-retired contractor with a lifetime of small jobs repairing homes. He lives with his high school sweetheart under redwoods in the Santa Cruz Mountains of California, caring for curly-haired dogs and straight-haired grandchildren. Joe's latest book is Random Saints. Learn more about him at www.joecottonwood.com.
Wilda Morris:
What a fun poem!
Posted 06/20/2023 05:32 PM
waldo47:
"Steam rising" and mystery revealed great work!
Posted 06/19/2023 11:18 PM
RonPoems:
Wonderful love poem.
Posted 06/18/2023 02:11 PM
Jancan:
Very touching and descriptive
Posted 06/17/2023 11:35 PM
Lori Levy:
Warm and humorous.
Posted 06/17/2023 04:36 PM
Joan Luther:
Happy FATHERS DAY!
Posted 06/17/2023 04:32 PM
CamilleBalla:
Ditto, ditto, ditto to all. Excellent choice fir Fathers Day.
Posted 06/17/2023 01:37 PM
David:
A wonderful presentation of a pretty unique memory!
Posted 06/17/2023 11:00 AM
peninsulapoet:
Joe is a master at heart-filled poetry. Always a pleasure read his work.
Posted 06/17/2023 10:44 AM
KevinArnold:
Yes "president for Petes sake of the Daffodil Society." No upper-case P. Great fun.
Posted 06/17/2023 09:44 AM
Sharon Waller Knutson:
i love Joe's poetry because he isn't afraid to show his vulnerable side and I can always relate to his down home, smart, funny poems. In this poem he nails the essence of being a kid in the first line: Always an embarrassment, my father, a bow-tie guy and president for Petes sake of the Daffodil Society.
Posted 06/17/2023 09:17 AM
peggy.turnbull:
What a great turn at the end! I enjoyed revisiting the appeal of compost in both senses of the word.
Posted 06/17/2023 08:37 AM
Stephen Anderson:
A good poetic snapshot of the carefree and joyous things kids often do in their wild abandon
Posted 06/17/2023 08:12 AM
Larry Schug:
Love and family history; small events loom large in these words.
Posted 06/17/2023 07:59 AM