Silver is a sound
   clear as running water
      dreamily wandering
      wondering
         wordlessly
         murmuring.
Silver is the light
   on stones and rocks
   settled along creek bottom
      feeling the pull and tug
      the rise and fall
         of seasons.
Silver Brook's music is in
   the playful otters
   the watching owl
   elusive buck in velvet
   foraging black bear
      the flowers and
      mushrooms and mosses
         reverberating the melodies
echoing in air
   the trees
   my mind
      bringing
      peaceful
         repose.


This poem first appeared in the InterTown Record (Sutton, New Hampshire)
Used here with permission.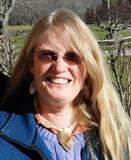 Jennie Pollard has lived in Illinois, Arizona, Hawaii, California, Colorado, Oklahoma, Texas and, now, rural Vermont. She has a husband, three sons, five grandchildren, a dog, a cat, and chickens. Jennie's writing typically revolves around what she sees around her and she believes nature is a key way for us to all connect. This poem was inspired by a song of the same name, written by Warner, New Hampshire musician Carl Beverly. To hear the song and see the video Carl created to go with it, click here.

Wilda Morris:
Nice.
Posted 06/22/2023 08:43 AM
Anastasia:
Lovely and soothing! Thank you, Jennie!
Posted 06/21/2023 04:52 PM
Jancan:
A lovely poem that flows like an appealing stream~~love the metaphors!
Posted 06/21/2023 04:30 PM
Lori Levy:
I love the way silver is used in this poem.
Posted 06/21/2023 04:26 PM
peggy.turnbull:
Thanks for this poem! I will think of it when stressed. It exudes serenity.
Posted 06/21/2023 09:06 AM
Larry Schug:
There is music in these words. A wonderful image forms in my mind.
Posted 06/21/2023 08:03 AM
Lyric:
I like how the shape of the poem is like a stream.
Posted 06/21/2023 07:17 AM
PurplePen:
gorgeous imagery. love this.
Posted 06/21/2023 07:11 AM
Stephen Anderson:
Youve tapped something that is always there that we too often fail to see, to our own detriment. Lovely poem , Jennie!
Posted 06/21/2023 07:08 AM
paula:
very nice!
Posted 06/21/2023 05:27 AM