It was in a little country church where we was congregated.
The preacher, he was on a roll
and had us captivated.

He said all men have weakness, of this we can agree.
If we would just confess our sins,
the truth would set us free.

Are there any here among us who can honestly declare
that they are near perfection,
are there any, anywhere?

From in the back a hand was raised by a rancher tan and old.
The preacher, he was caught off guard.
Could someone be that bold?

Are you saying that youíre perfect and youíve never done no wrong?
Oh, Iíve done my share of cussiní
and Iíve done it all along.

I raised my hand in proxy, only perfect man I know,
has to be my wifeís first husband,
as she often tells me so.


© by Russ Westwood.
Used with the authorís permission.

†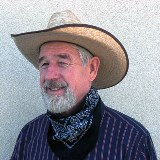 Russ Westwood was born in Moab, Utah. A great nephew of classic cowboy poet, S. Omar Barker, Russ was raised on a ranch and spent a lot of time around horses and rodeos growing up. Retired now from a career as a firefighter and paramedic, Russ appears frequently at cowboy poetry events throughout the West and Southwest. In 2019, he was awarded a championship buckle at the National Cowboy Poetry Rodeo. He has recorded one CD, ďThe Sheepish Cowboy.Ē Russ and his wife, Marge, currently live in Mesquite, Nevada.
†
Wilda Morris:
A great laugh! Love the humor.
Posted 07/07/2023 12:11 PM
Jonah:
Jonah. not often I laugh out loud. loved this one.
Posted 07/01/2023 03:08 PM
Lori Levy:
Great ending. Love the humor.
Posted 07/01/2023 11:52 AM
liz dolan:
Love your humor.
Posted 07/01/2023 10:11 AM
cork:
I love the visual layout of this poem.
Posted 07/01/2023 10:07 AM
RonPoems:
Shades of Baxter Black. Wonderful Cowboy rhythm and simple truth.
Posted 07/01/2023 09:46 AM
Jancan:
I love it!!
Posted 07/01/2023 09:45 AM
KinVT:
Love it. Nothing better than to start the day with a chuckle
Posted 07/01/2023 09:44 AM
Darrell Arnold:
Nice job, Russ. It's good to see you here, again. For you other folks, Russ organizes and participates in a plethora of poetic presentations in Mesquite and a wide surrounding area that stretches into Utah and Arizona. Thank you, Sir.
Posted 07/01/2023 08:17 AM
Larry Schug:
The rhythm and cadence of "cowboy poetry" is unique unto itself. It does its job so well. I like the honesty and insight into the human condition brought out in these lines. Humor may be the highest form of genuine communication.
Posted 07/01/2023 08:02 AM