I love the sound of lawn maintenance in the morning!
The whirring of leaf blowers!
The purring of ride-on lawnmowers!
The symphony of cacophony!
Those mechanical marvels, chewing up the unkempt,
spewing the detritus of unruly grass,
spitting dirt in the face of harmony!
Chasing small beasts from their roosts!
How wonderful to be wakened from rapturous sleep
by the growling and snarling that gently lull
and welcome us to this dissonant, discordant world.


© by R. Bremner.
Used here with the authorís permission.
†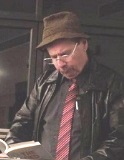 R. Bremner has been writing stories, essays, and poetry for forty years. Despite a stroke and a liver transplant, he has published eight books and chapbooks and his work has been published in a variety of journals. R. has worked as a cab driver, UPS truck unloader, computer programmer, and bank vice-president while living in Texas, New York, Los Angeles, Paris, Washington, D.C., and other cities. At the moment, he and his wife of 35 years reside in northern New Jersey.
>
Jancan:
Love the biting, vividly descriptive wit!
Posted 07/29/2023 09:53 PM
Lori Levy:
True. Great ending!
Posted 07/29/2023 02:08 PM
CamilleBalla:
I enjoy the way R writes about being wakened with the sounds of lawn maintenance and his wonderful use of polarities and other poetic techniques. The poem has personality! I can imagine the sounds and can see Chasing small beasts from their roosts! Energetic and positive in its own way.
Posted 07/29/2023 11:56 AM
paradea:
Been there. Done that!!!
Posted 07/29/2023 11:16 AM
cork:
I have always liked that word cacophony.
Posted 07/29/2023 10:22 AM
Larry Schug:
Kind of tongue in cheek?
Posted 07/29/2023 08:39 AM