There were seven of them in perfect formation,
pelicans swimming a sky blue as the lake below,
the black of their wings emphasizing their iridescence
as they glided overhead with effortless indifference
to any of us lucky enough to see them
fly innately in synchronization above where we were.

They owned the air with a nonchalance born of bird,
the sun an oblique angle they played with
in their turning, until at once, as one,
they dipped and dove and were suddenly seven
white pearls in a bracelet sliding down a wrist of sky,
skimming the blue folds of Green Bay this day in July.


© by Mike Orlock.
Used with the authorís permission.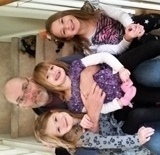 Mike Orlock is a retired high school English and American History teacher who divides his time between the Chicago suburbs and a vacation home in Sturgeon Bay, Wisconsin. He has been married for 46 years to his high school sweetheart and inspiration, Liz, and greatly enjoys being grandfather to five beautiful granddaughters who keep him, he says, "jumping like a frog on a hot skillet." Mike's short stories, poems, and reviews have appeared in a variety of publications and he is currently serving as Poet Laureate of Door County, Wisconsin, a position he will hold for the next two years. Mike's latest book is Toes, Toads, tulips & Turtles, released last fall.
jamvan:
So beautiful! 'seven white pearls in a bracelet sliding down a wrist of sky' - magic
Posted 08/01/2023 02:36 AM
Anastasia:
This is lovely, Mike! Thank you! My office is in a marina, so I have a wonderful view out onto the water and sky, so I get to see many birds during the day, including pelicans. They're so magical, and you've captured it quite well!
Posted 07/31/2023 11:07 PM
Adriana:
A truly lovely poem; would like to omit "innately" as unnecessary. Especially love the second verse, especially the last line. If you don't already know it, you might enjoy Gerard Manley Hopkins' The Windhover. (I've run all the lines together here...) "and striding high there, how he rung upon the rein of a wimpling wing in his ecstasy! then off, off forth on swing, as a skate's heel sweeps smooth on a bow-bend: the hurl and gliding rebuffed the big wind. My heart in hiding stirred for a bird, - the achieve of,the mastery of the thing!" You are in quite glorious company!
Posted 07/31/2023 03:19 PM
ghctenmile@earthlink.net:
Thanks for this lovely poem.
Posted 07/31/2023 01:45 PM
Lori Levy:
Beautifully expressed. Especially like the second stanza.
Posted 07/31/2023 12:31 PM
carlpalmer:
nonchalance born, lovely
Posted 07/31/2023 12:29 PM
CamilleBalla:
They owned the air with a nonchalance born of bird, Nice. Wonderful moments to observe, capture in this poem, and share. I also appreciate Carolyns info on the number seven. Thanks to all.
Posted 07/31/2023 11:33 AM
paradea:
Two beautifully-visual sentences!!!
Posted 07/31/2023 11:26 AM
KevinArnold:
And a surprise rhyming couplet to finish.
Posted 07/31/2023 09:54 AM
liz dolan:
Love a nonchalance born of bird and seven white pearls. lovely
Posted 07/31/2023 09:18 AM
Tom Sharpe:
Murmurations
Posted 07/31/2023 09:15 AM
Jancan:
What a magnificent scene Mike has painted, using superbly expressive metaphors!
Posted 07/31/2023 08:53 AM
David:
A spectacular moment capture spectacularly!
Posted 07/31/2023 08:52 AM
Carol Clearwater:
Another of Mike's arresting pictures in a poem. I love the first line of the second stanza; how mysterious and wonder making to see creatures master of another sphere. Thankyou Mike.
Posted 07/31/2023 08:32 AM
Carolyn Stonewrll:
This is an exquisite poem from start to finish whose rich details bring wisdom that only a keen observer of nature like this poet can bestow. The number seven itself is a number associated with wisdom: Goddess of wisdom Athena is linked to the number seven; God rested on the seventh day; in Hinduism and Buddhism, the flaming pearl is associated with wisdom that strengthens our bond with the divine. The pearls, the last image, take my breath away: suddenly seven
white pearls in a bracelet sliding down a wrist of sky,
skimming the blue folds of Green Bay this day in July.
Posted 07/31/2023 08:31 AM
tinylittlepeeps:
This poem is equal in splendor to the scene it captures!
Posted 07/31/2023 08:21 AM
Wilda Morris:
My favorite line: "white pearls in a bracelet sliding down a wrist of sky"! How beautifully expressed!
Posted 07/31/2023 08:18 AM
Angela Hoffman:
seven white pearls of a bracelet sliding down a wrist of sky!!!!
Posted 07/31/2023 08:12 AM
Larry Schug:
Wonderful, imaginative original word painting of pelicans in flight. That sight is the reward for paying attention.
Posted 07/31/2023 08:12 AM