There came a wind like a bugle;
It quivered through the grass,
And a green chill upon the heat
So ominous did pass
We barred the windows and the doors
As from an emerald ghost;
The doom's electric moccasin
That very instant passed.
On a strange mob of panting trees,
And fences fled away,
And rivers where the houses ran
Those looked that lived—that Day—
The bell within the steeple wild
The flying tidings whirled.
How much can come
And much can go,
And yet abide the world!

This poem is in the public domain but did appear in
Great American Poets: Emily Dickinson (Clarkson N. Potter Publishers, 1986).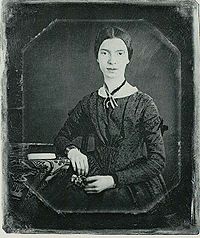 Emily Dickinson (1830 – 1886) is considered a major American poet, though she was not accorded this honor until well after her death, when her younger sister discovered and began to share the enormous body of work that Emily left behind. A recluse who almost always wore white, Emily was born to a prominent Massachusetts family and spent the bulk of her life inside her home in Amherst. Only seven of her poems were published during her lifetime, and virtually none were published as originally written until the mid 1950s. (Emily's odd punctuation, capitalization, and formatting did not meet with standard publishing "approval" for earlier editions.) There is a whimsical nature to many of her poems, although the subject of death was the most frequent recurring theme.
There are no comments for this poem yet.