The swimming pool fills with autumn,
its water cool beyond the point of comfort.

I skim off early brown leaves,
breathe in the fast approaching season—

the scent of fire-pit smoke
and back-to-school memories—

freshly waxed floors, pencils shavings,
the cafeteria's tomato soup—my orange lips.


This poem first appeared in Poetsonline.org.
Used here with permission.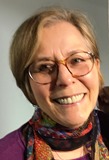 Norma Ketzis Bernstock, raised in a suburb of New York City, now enjoys life as an artist and poet in the beauty of the Delaware Water Gap National Recreation Area. Retired after 34 years in education, mostly as a school media specialist, her writing desk overlooks dense foliage and one of her greatest joys is observing the wildlife sauntering past her window when they don't know they're being watched. Norma is the author of one chapbook from Big Table Publishing, Don't Write a Poem About Me After I'm Dead, and is hard at work on two other manuscripts.
Lori Levy:
Beautiful images.
Posted 08/31/2023 05:38 PM
eggnored:
Vivid imagery!
Posted 08/31/2023 04:55 PM
Suzy Lamson :
I like this poem, especially "breathe in the fast approaching season" and the shock of orange in the last line. As someone else wrote, you really engage our senses in this poem.
Posted 08/31/2023 02:56 PM
Shoshauna Shy:
I'm there with you!
Posted 08/31/2023 02:17 PM
David:
Engages all the senses ! Very good.
Posted 08/31/2023 10:47 AM
peggy.turnbull:
Such an original and evocative use of the color orange here! The last line is clear and concise, and it leaps like haiku. Wonderful.
Posted 08/31/2023 09:52 AM
Wilda Morris:
The first line drew me in - it is so well expressed. I noticed all the sudden this week how much earlier it is getting dark. Yep, autumn is just around the corner. And it's my favorite season.
Posted 08/31/2023 08:55 AM
Jane H Fitzgerald:
I knew as I was reading this, the words were from a fellow educator. You expressed the transition to fall and school well.
Posted 08/31/2023 05:35 AM