Of all the meals that glad my day
My morning one's the best;
Purveyed me on a silver tray,
Immaculately dressed.
I rouse me when the dawn is bright;
I leap into the sea,
Returning with a rare delight
To honey, toast and tea.
My appetite was razor edged
When I was in my prime;
To eggs and bacon I was pledged . . .
Alas! the March of Time;
For now a genial old gent
With journal on my knee,
I sip and take with vast content
My honey, toast and tea.
So set me up for my delight
The harvest of the bee;
Brown, crispy toast with butter bright,
Ceylon - two cups or three.
Let others lunch or dinner praise,
But I regale with glee,
As I regard with grateful gaze
Just honey, toast and tea.

This poem is in the public domain.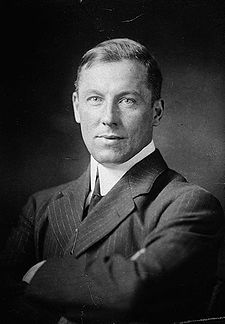 Robert Service (1874 - 1958) was a Scottish poet who became smitten with the Yukon Territory when he moved to Canada at the age of 21. Though he longed to be a trail-blazing cowboy, and many thought he indeed lived the life of which he wrote, Robert was, in fact, a bank clerk. After wandering North America for several years, working at odd jobs and various bank branches, he finally settled down in Dawson City, Yukon, some time after the Gold Rush. Robert began writing poems about his stark and beautiful surroundings, and about the legends and lifestyle associated with that part of the world. When his collection of poetry, The Spell of the Yukon and Other Verses, was published in 1907, it was an immediate success, made Robert wealthy beyond his greatest expectations, and earned him the nickname "The Bard of the Yukon." Robert alternated living in North America and Europe for the remainder of his life--even spending a few years in Hollywood; the cabin in the Klondike where he made his home is now a Canadian national park site.
There are no comments for this poem yet.