Read to me riddles and read to me rhymes
Read to me stories of magical times
Read to me tales about castles and kings
Read to me stories of fabulous things
Read to me pirates and read to me knights
Read to me dragons and dragon-book fights
Read to me spaceships and cowboys and then
When you are finished – please read them again.


From The Three Bears Rhyme Book (Houghton Mifflin Harcourt, 1987).
Used here with permission.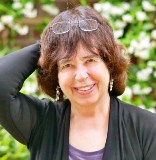 Jane Yolen was born in New York City to parents who were also writers. She began writing and winning awards in childhood and is today the author of more than 400 books—for every age level, of multiple genres, and translated into a dozen different languages. A poet first and foremost, Jane is probably best known for her picture books. Two of her children are writers, and one is a photographer/writer (he took the photo above); she has collaborated with all three on book projects. A picture book she wrote with granddaughter Ari Stemple, Kiki Kicks, will be published this month, and In and Out the Window, a collection of more than 150 poems for middle-graders, is soon to be released from Random House. Jane lives in Massachusetts, except for the four months each year when she lives in Scotland; learn more about her at www.janeyolen.com.
Joan Luther:
Love this!
Posted 10/24/2023 07:32 AM
Adriana:
I'm trying out a new word I learned today -anaphora, a figure of speech abundant in today's terrific poem.
Posted 10/23/2023 08:04 PM
EDELINE:
This excellent poem emphasizes, by its form ( rhymes and rhythm) the univesal demand, by children, to be told the same story again and again.
Posted 10/23/2023 01:10 PM
Judy:
I love this poem! I have to read it again!
Posted 10/23/2023 08:34 AM
Anastasia:
So true! A child who is read to becomes a reader. A child who is sung to becomes a singer. What we share with children (or own and others') matters.
Posted 10/22/2023 10:30 PM
Jancan:
So delightful!
Posted 10/22/2023 08:27 PM
Lori Levy:
Very catchy.
Posted 10/22/2023 04:28 PM
KinVT:
One of lifes greatest joys reading to a child, sharing ones love of literature with a young mind. Thank you for a fun, joyful poem! I just forwarded it to my adult sons.
Posted 10/22/2023 12:04 PM
Wilda Morris:
Fun poem! I loved it when Mother read stories to me and my sister. And I've loved reading to my little brother and sister, my children, grandchildren and great-grandchildren (and other children) over the years.
Posted 10/22/2023 09:57 AM
NormaB:
I had many of Janes books in the school libraries in which I worked. Looking forward to her new book of poems, not for a library but for myself!
Posted 10/22/2023 09:25 AM
Darrell Arnold:
Reading to my children was always one of the great pleasures of my life, and of theirs. Such a simple bonding experience that opens up a child's mind to all that there is to know about the world. Great poem, Jane.
Posted 10/22/2023 08:16 AM
mail@schoolbusmart.com:
Jane's right up there with the best of children's writers. Nice choice. Randy Mazie
Posted 10/22/2023 08:00 AM