I knock but know she canít hear me.
The TV blasts through the door. I turn the knob,
walk into the kitchen calling, Meals on Wheels!
†
I set her institutional lunch on the counter.
In the other room, like a gray mourning dove,
sheís perched before the screen.
†
I approach gingerly, afraid Iíll startle her.
She looks up with a wide smile. Donít get up,
I say. I brought your lunch.
†
Ninety-four years old, she lives alone
in a mobile home on a twisting mountain trail,
her son a stoneís throw down the road.
†
Struggling to her feet, she pushes her walker toward me.
Oh, thank you. A hundred times thank you. I enjoy it
so much, especially the buttermilk. I get two, you know.
†
It keeps me going. We inch our way to the back door.
Hope you enjoy it, Mrs. Livingston. She takes my hand,
speaks to me as she would a longtime friend. Call me Pamela.


This poem first appeared in Negative Capability, Mise en place: Volume 2021).
Used here with permission.
†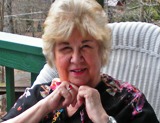 Glenda Beall lives in Hayesville, North Carolina with her dog, Lexie. She leads the NC Writers' Network West, a program launched in the early 1990s. Glenda takes writing classes online because, although she has been publishing her work for nearly 30 years, she says, "There's always more to learn!" For the past three years, she's enjoyed teaching memoir writing on Zoom, which has allowed her to meet writers from all over the country as well as those in her local area. Glenda is known for encouraging her students, supporting new writers, and assisting writers in becoming published. Learn more about her at www.glendacouncilbeall.com and www.profilesandpedigrees.blogspot.com.
Glenda Beall:
Thank you all for your kind words. Most of my poems are narrative, tell stories, and I appreciate your saying this poem is like a novel or the beginning of one. I appreciate Jayne for publishing my poem.
Posted 11/21/2023 10:00 PM
Anastasia:
Bless all who do this beautiful and important work! Thank you for sharing this moment, Glenda.
Posted 11/21/2023 12:02 AM
Lori Levy:
Love the tenderness expressed in this poem.
Posted 11/20/2023 02:32 PM
paradea:
Love this poem!!
Posted 11/20/2023 01:11 PM
carlpalmer:
Touching me where I need to be touched after morning news and cold rain.
Posted 11/20/2023 10:03 AM
CamilleBalla:
Ditto to Norma. I can see this poem as a short video of beautiful communication, compassion, and caring for the elderly through home-delivered meals.
Posted 11/20/2023 10:02 AM
NormaB:
Great poem on a very important and sometimes ignored aspect of aging. I love that we can bring bring attention to this through poetry.
Posted 11/20/2023 09:34 AM
Sharon Waller Knutson:
I love this poem because it tells a warm, powerful story and it reads like a novel. I was drawn in from the title, "Two Buttermilks for Pamela" and was riveted to the last line. Pamela is a strong well developed character I'd like to know more about. I can see her clearly and hear her voice.
Posted 11/20/2023 08:49 AM
Darrell Arnold:
Count me among your troops who have, or still do, made meals on wheels deliveries. You get to meet folks worthy of meeting that you'd otherwise never know.
Posted 11/20/2023 08:16 AM
Larry Schug:
This poem is kind of like the beginning of a novel. What happens next?
Posted 11/20/2023 07:57 AM
gailcomorat:
Beautiful!
Posted 11/20/2023 07:27 AM