Over back where they speak of life as staying
('You couldn't call it living, for it ain't'),
There was an old, old house renewed with paint,
And in it a piano loudly playing.

Out in the plowed ground in the cold a digger,
Among unearthed potatoes standing still,
Was counting winter dinners, one a hill,
With half an ear to the piano's vigor.

All that piano and new paint back there,
Was it some money suddenly come into?
Or some extravagance young love had been to?
Or old love on an impulse not to care--

Not to sink under being man and wife,
But get some color and music out of life?


This poem is in the public domain.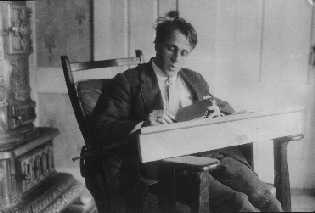 Robert Frost (1874-1963) was born in San Francisco, but moved to Massachusetts with his family after his father's death in 1885 and, ultimately, lived in a number of homes and farms throughout New England. Though he attended several prestigious colleges and universities, he never graduated from any of them. Nonetheless, Robert spent most of his adult life teaching, receiving more than forty honorary degrees, along with four Pulitzer Prizes. Robert's interest in poetry started early; he published his first poem while in high school, sold his first poem at twenty, and by the age of forty, was one of America's best known and best loved poets. Rural life is a consistent theme in Robert's poetry, as is simplistic language that is pleasing to the ear; he felt strongly that poetry was best appreciated when read aloud.
Linda Lee (Konichek):
This poem reminds me of my grandma's saying, "People are more important than things." And sometimes things,k like music,are the best therapy in the world...or splurging on a meal out, or...Linda Lee
Posted 10/20/2010 11:27 AM