the miners rise into the light
and the world weeps in precise jubilation.
Here, the copper bird I bought last summer 
is indifferent: the rainbow chard and beets
swirl around her.
Jubilant, I watch this fall garden:
the nasturtiums I never planted
trail past the Drunken Woman lettuce,
tangle into the filigreed collards.
Nearby, the fall rye has turned
into a green sea. 

Death, precise and insistent,
is never far away.
The zucchini and bush beans have begun to die
as the light tunnels
toward the rising dark.

Copyright 2010 by Wendy Morton.
Used with the author's permission.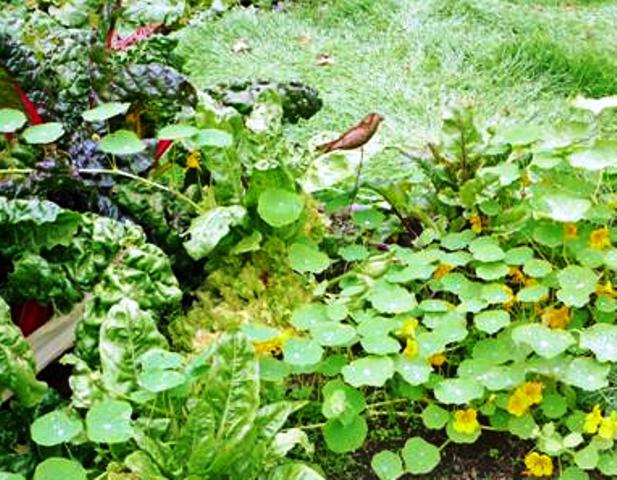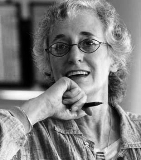 Wendy Morton believes that poetry is the shortest distance between hearts. She has five books of poetry, and a memoir, Six Impossible Things Before Breakfast, in which her adventures as a corporate sponsored poet are revealed. Her latest book of poetry, What Were Their Dreams, is a book of photo-poems of Canada's history. Wendy is the founder of Canada's Random Acts of Poetry, now in its seventh year, and is the recipient of the 2010 Spirit Bear Award and the Golden Beret Award. For her day job, Wendy has been an insurance investigator for the last 28 years. She lives in Sooke, B.C. and is a raven watcher. Learn more about Wendy here.
mlove:
Re natasha from claremont... here I am in Greenville SC, a friend of Jayne's, but every other week I travel to claremont (CA) where I work on a project in San Dimas. Small world....
Posted 11/08/2010 01:42 PM
vmidge@hotmail.com:
Beautiful! Love "the world weeps in precise jubilation" and the juxtaposition of growing and dying, light and dark, as you reveal the rhythm of the seasons moving swiftly and immortally forward to complete and renew the circle. This is the first of your work I have read, and believe I owe it to myself to read more. Thank you for this wonderful poem! Midge
Posted 11/02/2010 04:46 AM
rebeccareynolds:
Like everything I've read of Wendy's, I love this. She is the queen of clear and tangible imagery. Billy Collins would be proud. Rebecca Reynolds Mill Bay, BC
Posted 10/29/2010 08:34 PM
lilscheff:
Hey its natasha from claremont!thanks for this website I really enjoy it!this a great poem, it is an honor that I have met you! I love your book! :)
Posted 10/27/2010 12:12 PM
ephillips:
Precision of jubilation and precision of death captured; like a tunnel, both light and dark beckoning. Fragility, strength, cycles and impact all in a few lines of well-chosen words.... Wendy, thank you.
Posted 10/24/2010 10:25 AM
Jack McAlister:
With this elegant piece, you seem to have unearthed a major influence in Canadian poetry, a gentle & penetrating sensibility that deserves much more exposure. Kudos to you & to the extraordinary Wendy Morton!
Posted 10/24/2010 09:11 AM
Cynthia Woodman Kerkham:
Such an exquisite, precise and vivid poem. It is so beautifully balanced with its reversals of light and dark at the end and its careful repetitions, the awful beauty of life and death. Thank you, Wendy!
Posted 10/24/2010 09:02 AM
savfeatherstone:
Another wonderful Wendy Morton poem combining real life with gardening life and giving us another zesty mouthful!! Thank you Wendy!!!
Posted 10/23/2010 05:43 PM
mary ann mulhern:
Wendy Morton has shown us the fragility of life, the proximity of death, through the metaphor of her garden- that wild jubilation of survival, the constant ebb and flow of existence! The reader experiences the joy of the miners - their return to 'light". Mary Ann Mulhern
Posted 10/23/2010 05:32 PM
savfeatherstone:
Another wonderful Wendy Morton Poem!! Combining and blending real life with garden life and giving us all a zesty mouthful!! Thank you Wendy!!
Posted 10/23/2010 05:31 PM
Buckner14:
'The shortest distance between hearts"--indeed. Your poem proves the accuracy of your statement.
Posted 10/23/2010 03:30 PM
Reganz:
We understand that news of a tragedy from other parts of the world has only a transient effect on our own routines, so far away from the source -- this poem tells me that even when the news is good, the feeling stays with us only briefly before we must return to what demands our attention, the life and death close to us.
Posted 10/23/2010 03:00 PM
drchrisfox:
death, life, and jubilation: yes!! and there is also the subtle connection of the mine and the copper bird. but "the light tunnels / toward the rising dark" is truly wonderful as trailphny said.
Posted 10/23/2010 02:27 PM
apare:
thank you, wendy morton!! an exquisite poem about light and life. i love how you weave it all together.
Posted 10/23/2010 01:17 PM
trailpny:
"as the light tunnels/toward the rising dark." -- gorgeous!
Posted 10/23/2010 11:19 AM
Ginny C.:
The description of the garden as a sort of uncontrollable force, followed by the last stanza that connects garden, miners, and all living things makes this poem a standout.
Posted 10/23/2010 09:38 AM