Above, branches weave like fingers –
hands folded in prayer. My skin has cooled
in this shade. For a moment, I imagine
myself beautiful. This would be the best
time to sleep, become an afternoon's idol
but two squirrels begin their games,
leaping limb to limb – autumn wood
scrapes like bone. Day ages, shadows stretch
their roots, and the sun dips her eye beneath
the tree's stark hem – my skin begins
to warm. I'll not be worshipped again.
© by S. Thomas Summers.
Used with the author's permission.
.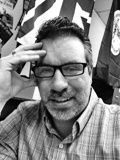 S. Thomas Summers is a professor/teacher of literature, writing, and philosophy at Wayne Hills High School and Passaic County Community College, both in Northern New Jersey. Much of Summers' poetry finds its foundation in the hills and forests that surround his home. Via his poetry, Summers hope to capture what is easy to see, but often difficult to notice. He is the author of two Pushcart nominated books, Private Hercules McGraw and The Journals of Lt. Kendall Everly, both stories of the American Civil War. He blogs at www.inkhammer.wordpress.com.
ericgmuller:
Evocative - rich imagery - satisfying! Thanks, Eric
Posted 11/07/2010 01:20 PM