On the dock, a woman watches feathers of snow geese
stream across a fire-darkening sky,
red torch of sun about to burn out.
A few last flames halo treetops along the shore
and the pond becomes
a prism of muted yellows,
oranges, alizarin crimson. Swallowing silence,
a woman's breath
slows like the banked embers along the horizon.

Night blinds her until everything is sound.
A whippoorwill's repetitive call,
carp slapping against pond's edge,
a loon's cry for his mate that echoes across the water,
all tangled within the brushed voices
of memory, tucked beneath the wash of time...
She thinks of them,

her grandsons, their lives and deaths. Fireflies fall
from the trees, light up and go out, light up and go
out.
So short these signals of love.
© 2010 by Mary Jo Balistreri.
Used with the author's permission.
This poem was written to accompany this painting, "Mill Pond Sunset" by Carolyn Larkin.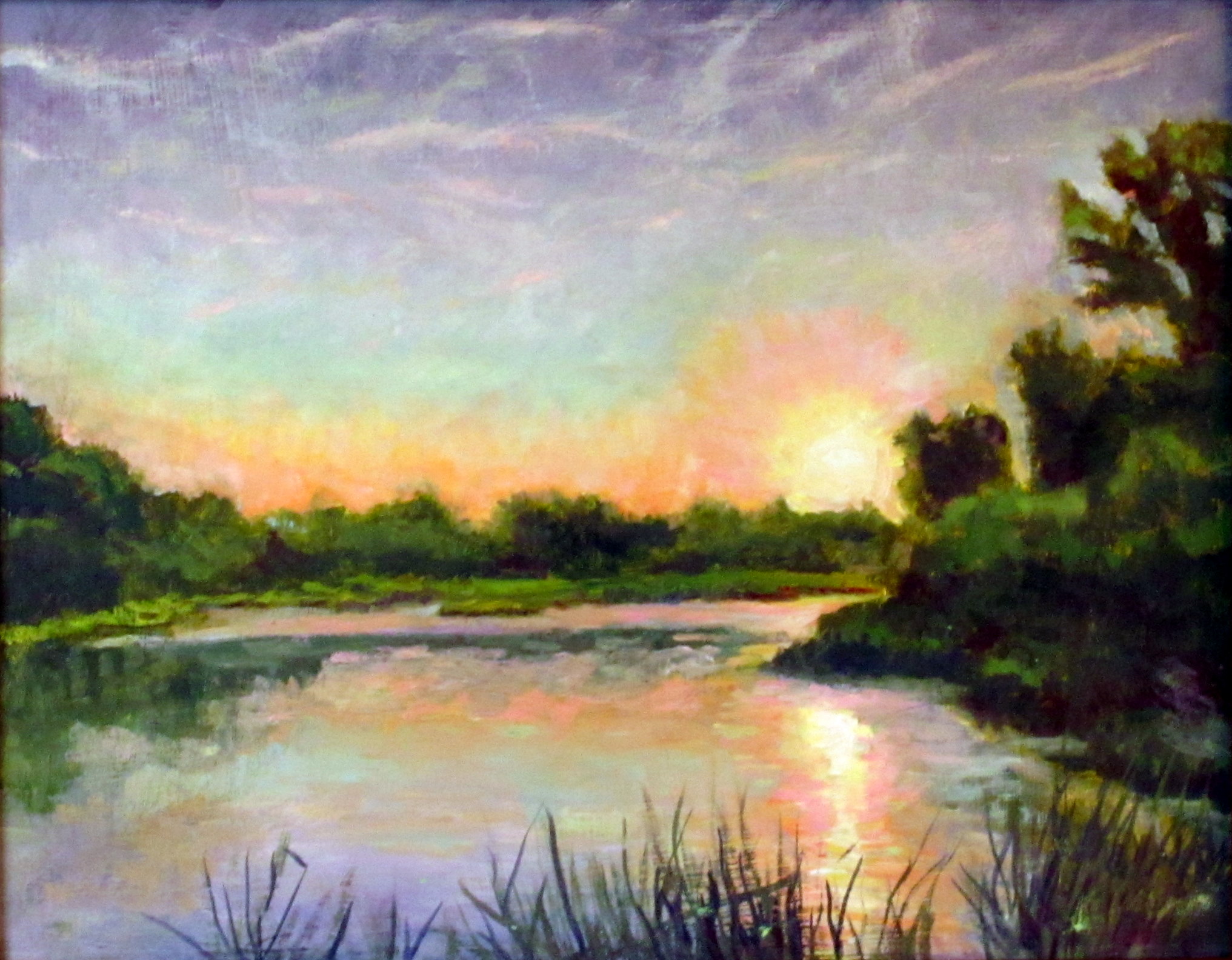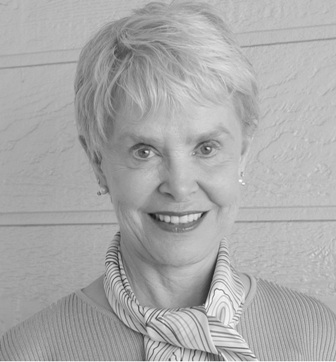 Mary Jo Balistreri spent most of her life in music, performing as a concert pianist and harpsichordist, and teaching for sixteen years. After the death of her first grandson to mitochondrial disease (the second one died two years later), she turned to the music of words as a way to give witness to his life as well as to transcend grief and turn it into something positive. Now retired from her musical pursuits, Mary Jo spends as many hours writing as she once did practicing. Her uplifting, joyous poetry has been published in numerous journals and she was nominated for a Pushcart Prize in 2006. For Mary Jo, poetry has become both a passion and a way of life, and writing is now a spiritual path. Learn more about Mary Jo at www.maryjobalistreripoet.com.
Patt Clark:
Mary Jo's words make us realize the shortness of many relationships fading as quickly as a beautiful sunset. Her poem conjures up John William Waterhouse-the painter who created "The Lady of Shalott" and "Gather Ye Rosebuds..." Gather ye Rosebuds while ye may/Old Time is still a-flying, And this same flower that smiles today/Tomorrow will be dying...I appreciate what my mind connected to while reading this poem. Patt Clark
Posted 11/14/2010 03:44 PM
dtrain:
DTRAIN We now have a sense of what the painting sounds like and what courage feels like in the face of interminable grief. The ones we love/once loved are everywhere at every moment. Mary Jo has reminded us to use/perceive/sense/listen to what is right in front of us so that we may find them again -- reiterations of what we already hold within.
Posted 11/12/2010 07:26 AM
akj01:
Faulkner said: "I would say that music is the easiest means in which to express, but since words are my talent,I must try to express clumsily in words what the pure music would have done better." Mr Faulkner never met Mary Jo. I think he would have been stunned at how she gives us the gift of music through her words just as she once communicated her poetic words through music. This poem, as is the case with so many of Mary Jo's poems touches me deeply and in unexpected ways. Today's poem is a heart rending song that brings me to tears. It is a picture that combines colors and textures in a way I never saw. It is a story I am at first scared to read because on the surface it is sad....a grandmother missing her grandsons. A comparrison of each of their lives to that of a firefly's light -both too brief. I read the story and brace myself. I visualize the firefly's light so brilliant. It goes on. And then it goes out. The story is simple - it is what it is. Yet out of that very simplicity used to describe sadness that is beyond all comprehension a joyful, hopeful song begins. It is a song about one of the only absolute truths of this world -whenver there is love it will always remain. Long after the light that sparked that love goes out the wonder of love is remembered and shared. This poem is part of that love. It is love that we can hold on to -that we can hear -see -breathe in and out -and feel. What a gift this poem is!
Posted 11/11/2010 11:08 PM
gailcomorat:
I love all the sensory detail in this poem. Gorgeous words--and that last line--made me weep.
Posted 11/11/2010 04:05 PM
Linda Lee (Konichek):
As one who believes poetry is mostly about images and well-crafted details, I love this poem and its feeling, as well as lines like "feathers of snow geese," and "red torch of sun about to burn out." The final stanza is perfect; accolades to Mary Jo, also one of my favorite Wisconsin poets!
Posted 11/11/2010 12:25 PM
mbfischer:
What a gorgeous poem that shows how art and writing can intersect--the painting holding a story that the poet than excavates--and so beautifully. Maribeth Fischer, novelist
Posted 11/11/2010 12:12 PM
transitions:
This is such a beautiful and heart-rending poem. Mary Jo shares a depth of feeling with us that expands our grasp of reality. Her music continues...in words. She is one of Wisconsin's finest poets, and an inspiration. Judy w.
Posted 11/11/2010 11:16 AM