I'll show you what's really liquid—it's this sunlight pouring down
from the west, from the great glass jar of the sky. The creek playing
its little tune, running over the stones. The descant of syllables
in the mockingbird's song. For not a single hickory nut
banked by the squirrels will gain any interest.
Not a grain of wheat in the wallet of a chipmunk's cheek
will increase in worth. The bear's fat layer is its IRA.
Here in the woods, it's autumn's great investment portfolio; look,
everything's turned the color of money: copper, brass, gold.

This poem first appeared in Switched-On Gutenberg.
Used with the author's permission.
2008 NPR headline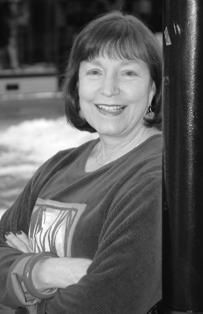 The author of more than 600 poems published in nearly 2000 anthologies, books, and magazines, Barbara Crooker is the recipient of numerous awards, residencies, and fellowships. A twenty-six time nominee for the Pushcart Prize, she is the author of ten chapbooks and three full-length books, including Line Dance, which won the 2009 Paterson Award for Literary Excellence, and her latest collection, More. Barbara credits her achievements to perseverance as much as talent, and says, ?Writing poetry is not putting down whatever comes into your head, and leaving it at that, never taking it any further. Poetry involves layers, and a lot of revision." Read more about her at www.barbaracrooker.com.
Jo:
Hi, Have always loved this poem. Such beautiful images. Jo
Posted 11/14/2010 08:14 PM
Buckner14:
Absolutely lovely! Such images!
Posted 11/14/2010 10:25 AM
tannerlynne:
I LOVE this poem. thank you. L. Tanner
Posted 11/14/2010 07:26 AM