I live, I die, I burn, I drown
I endure at once chill and cold
Life is at once too soft and too hard
I have sore troubles mingled with joys

Suddenly I laugh and at the same time cry
And in pleasure many a grief endure
My happiness wanes and yet it lasts unchanged
All at once I dry up and grow green

Thus I suffer love's inconstancies
And when I think the pain is most intense
Without thinking, it is gone again.

Then when I feel my joys certain
And my hour of greatest delight arrived
I find my pain beginning all over once again.
This poem is in the public domain.
This translation possibly done by Delmira Agustini.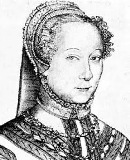 Louise Labe (1522 - 1566) was a French poet. The daughter of a wealthy rope maker, whose mother died when she was a toddler, Louise grew up amid much affection and privilege and was given an excellent education. Smart, beautiful, and gifted in music, languages, and writing, Louise was an advocate for women's rights, and undoubtedly an inspiration to many less vocal women, in a time when men ruled the world. Her poetry--mostly about love-- drew both praise and criticism (for being inappropriate for a woman).
There are no comments for this poem yet.