A Chinstrap penguin on a Christmas postcard
arrives from the southern edge of the world
where ocean sky and ice
merge into one vivid blue.
Turquoise gems the old icebergs are
and he spends many a day on them
scaling their slippery peaks
with his black-and-white prowess.
Caught going solo
he ascends the steepest tip
perpendicular to the wishes of the sea
and I wonder whether lazuline
fills even his lungs as he stretches toward
the sky he cannot fly into
but just may touch in his midnight dreams
liquid as his life.
From Slipping Out of Bloom (WordTech Editions, 2010).
This poem first appeared in River Oak Review.
Used here with the author's permission.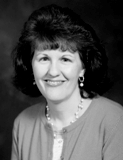 Julie L. Moore believes that writing poetry can be like a game, for it can manipulate language, satirize our clever, yet shallow, society, and even crack jokes. But that's not why she jots notes in her moleskin while washing dishes, playing summer tourist, or trying to endure prolonged and painful illnesses. For her, it's about saving a life: her own and--she hopes, if she's any good at it--someone else's. Author of Slipping Out of Bloom (WordTech Editions) and Election Day (Finishing Line Press), Julie's award-winning work has been published in numerous journals. Read more about her at www.julielmoore.com.
Cathryn:
I admired the first four lines of this poem when I read them in Julie's book. She has a knack for place!
Posted 12/10/2010 12:30 AM
wendy morton:
this poem, its clear images, its sadness and hope. All this beautiful language.
Posted 12/04/2010 05:12 PM
Joe Sottile:
Yes, a lovely liquid blue poem, and what better recommendation than "I would not have wanted to die without reading this poem"?
Posted 12/04/2010 11:59 AM
ems:
lovely images and imaginative word use; the last three lines are great.
Posted 12/04/2010 09:51 AM
dotief@comcast.net:
How lovely! I too am a penguin fan and I marvel at their remarkable tenacity when it comes to surviving in such inhospitable places. This poem captures very well what I image their world to be like, yet it still makes that world seem very beautiful.
Posted 12/04/2010 08:35 AM