How brazen
yet delicate is this red
hibiscus,

torn last winter
from a Florida pavement, weed
among smouldering weeds.

You wrapped it in brown paper,
hid it
under your airplane seat.

Now it trumpets
its honky-tonk
song

here
in a northern
window

and scorches
our chilly
mornings

with stolen
tropical
light.
From Heroes in Disguise (W.W. Norton & Co., 1991)
Used with the author's permission.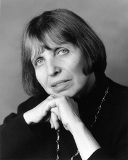 Linda Pastan grew up in New York City, graduated from Radcliffe College, and received an MA from Brandeis University. She has published 12 volumes of poetry, two of which have been finalists for the National Book Award. Linda's poems have appeared in many journals, including The Atlantic Monthly, The New Yorker, The Nation, and The Georgia Review. She has been Poet Laureate of Maryland, and in 2003 won the Ruth Lilly Poetry Prize for lifetime achievement. Linda lives with her husband in Potomac, Maryland; they have three children and seven grandchildren.
vawomann:
LOVE IT!! Next you'll have to try an avocado seed!! HA!!
Posted 12/09/2010 06:20 PM
wendy morton:
what is so lovely about Linda's poetry is her spare language in which her images bloom.
Posted 12/09/2010 11:18 AM
dotief@comcast.net:
Very nice. I live in Florida so that I can bask in that "tropical light" all the time. I also love hibiscus because of its riotous colors! You have captured my feelings about the place so well!
Posted 12/09/2010 08:30 AM