2:00 a.m., Avenue C
A beer bottle shocks the baró
swung upward by the long neck.
Shards fall underfoot.

The crowd knocks itself over
like garbage cans in alleys, pushing
for taxis uptown to numbered streets.

Not me. An hour ago, I sensed
the dark lowdown, and liked itó
sublingual chipotle, pulse of bass,

bar screens flickering Grace Jones
so black sheís purple,
cheekbones to razor the room.

I canít resist the pull to edges
where sharpness takes over.
The floorboards glitter, Iím wide awake.

Midnight, Grand Central
Christmas Eveówe are so rich
we forgo gifts, bundle ourselves
to that stone waystation, drop twenties
into the laps of sleeping tramps.
"Angels" cries one who awakens.

My face flushes with cold
and self-congratulation.
We are laughing
until a rag-heap rises
and stalks behind us.

When we run
our lungs seize air acrid
with urine and old sweat.
He is waving a billó
you dropped this.
This poem first appeared in the Kakalak Anthology of Carolina Poets (2009).
Used here with the authorís permission.
†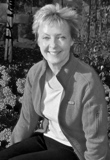 Elizabeth Drewry is a Shakespeare enthusiast, a yoga practitioner, and a half-hearted cook except for her specialty, peach pies. Sheís a charter member of the National Blues Foundation headquartered in her hometown of Memphis, Tennessee. Now retired, she was a newspaper executive for twenty-five years in New York and California. She lives in the beautiful foothills of the Blue Ridge Mountains, where she writes poetry and is working toward her first collection.
vaspinosa:
I remember hearing this story many years ago . . . but put in poetry I actually 'felt' it.
Posted 12/25/2010 10:16 AM
Katrina:
Wow! This is real.
Posted 12/25/2010 04:50 AM
rdrewry77:
Such vivid pictures painted here!
Posted 12/24/2010 08:53 PM
Ralph Murre:
And when that collection is complete' sign me up for a copy. Two of the best poems to appear in some time.
Posted 12/24/2010 12:19 PM
vawomann:
Touching! Merry Christmas!
Posted 12/24/2010 08:17 AM
Phyllis Beckman:
amen, sister!
Posted 12/24/2010 06:21 AM