Candy.
Racks of it
within his grasp.
No!
But, Mom?
She moves ahead
emptying her cart.
Gum.
Hey, I
said no!
He turns to see
An older face.
She smiles.
Remembering.
© by Robert Manchester.
Used with the author's permission.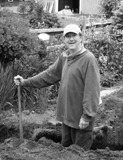 Robert Manchester lives in New Hampshire, surrounded by leafy trees, stone walls, memories of Robert Frost, and lots of living poetry legends. He's been writing and publishing poems for 50+ years, but quite prefers writing to submitting, so seldom gets around to the latter. Robert confesses that he likes to write edgy poems about the "underbelly of life--the junk cars, tumbledown trailers, goat pens in the front yard, and the like," though he also likes haiku and, of late, is experimenting with syllable and meter.
codder@earthlink.net:
Robert, my cousin, is special......I love this poem especially....Thank you.
Posted 12/15/2015 01:05 AM
cbaustin:
I love the underbelly of poetry! Nice,sweet,simple poem-kudos
Posted 01/25/2011 10:55 AM
Arlon:
Robert's a friend, whose interest in poetry I had only learned of in the last few years. This poem is sweet and his "underbelly" pieces tap into a similar, though more visceral, emotional place. Maybe we'll get to measure these in a chap book?
Posted 01/25/2011 05:51 AM
Katrina:
I love this, Robert! If you write haiku, you might like to try tanka. I'm experimenting. :)
Posted 01/25/2011 04:34 AM