They say to handle each paper once,
but I can never do that with opera invites,
for I am someone who would like to like opera.
So when one comes, along with the bills,
fundraising letters from my daughterís pricey college,
small magazines that published my workó
magazines I keep renewing but never find time to read,
even gold-embossed credit-card offerings to my ex-wife,
itís the opera offer I canít throw away.
It would be so good if I could get my daughter to go.
I wonder whether to subscribe or just pick one or two.
Perhaps start with a familiar name:
La Traviata, Madame Butterfly, Aida, or Carmen.
Or how about these colorful ads for the new ones:
The Death of Klinghoffer or Nixon in Chinaó
any program that puts the stars in tails and flowing gowns.
Some Wednesday, Friday, or Saturday, maybe next year
Iíll be there, part of the daringly dressed audience
as the lights dim. Imagine me in that heart-stopping
quiet just before the songs echo into the night.


© by Kevin Arnold.
Used with the authorís permission.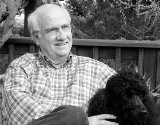 Kevin Arnold is a poet, prizewinning short story writer, teacher, and novelist. President of Poetry Center San Jose in California, and co-founder of the Gold Rush Writers Conference, Kevin is an animal lover who enjoys daily interaction with his black standard poodle, Ava, and his horse, Jasmine.

Joe Sottile:
I enjoy poems that resonate within me. This one does. I save magazine subscription offers, and then I don't order them--it's about the economy! I save tour guide offers to various cities and activities for the same reason. And sometimes I turn the volume up loud and listen to operas in my car, and daydream about being more than I am.
Posted 03/01/2011 09:47 AM
karenpaulholmes:
Very nice poem. I love opera. I'm imaging "me in that heart-stopping quiet just before the songs echo into the night."
Posted 03/01/2011 09:03 AM
jeanie:
i love this poem. i love the voice in the line, "some Wednesday, Friday or Saturday, maybe next year / I'll be there ..." wonderful!
Posted 03/01/2011 06:55 AM