The morning glory
is tangling its green
vines around me.
Binding my feet like
a Chinese maiden,
twisting up to my
waist. A belt of leaves
blooms from my belly.
The sun is bright.
A glory beams
through the clouds.

Up it climbs. The vine
turns again, circles
the contours of my body,
coiling more tightly around
my neck. A mourning dove
coos from the telephone
wire. A moth catches its
wings in the brambles.

Now the vine has come
to rest on the top of my
head, bursting into full
bloom. A white halo
opens like an umbrella.

There should be a word
for the power of light.

© by Margaret Chula .
Used with the author's permission.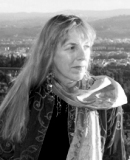 Margaret Chula lived in Japan for twelve years where she taught creative writing at Kyoto universities. She has published six collections of poetry, most recently What Remains: Japanese Americans in Internment Camps, a collaboration with quilt artist Cathy Erickson. Specializing in Japanese poetic forms, Margaret teaches workshops at universities, Zen centers, and at poetry conferences. One of her haiku was printed on Itoen tea cans distributed throughout Japan. This year, Friends of Chamber Music has appointed her their Poet Laureate, to create original poems for each concert. Margaret lives in Portland, Oregon, where she enjoys hiking, swimming, gardening and sitting in the window seat watching clouds. Learn more about her at www.margaretchula.com.
dianapoet:
"What Remains" is a wonderful book - great poems, quilts, artwork. Very moving. I'm glad this poet was featured in YDP.
Posted 04/04/2011 08:34 PM
LindaCrosfield:
Totally agree, Jeanie, what a wrap! Love the jungle of images just heaped upon me.
Posted 04/03/2011 06:57 PM
jeanie:
beautiful, lovely. that last line is going to haunt me all day.
Posted 04/03/2011 10:12 AM