For the dog and the child
spring splashes with puddles

For the red rod of peony
spring splits the garden floor

For the faint of vision
spring sculpts sensuous light

For the willow that weeps
spring drapes amber lace

For the weary winter soul
spring sits atop the blue spruce

and sings

This poem first appeared in Echoes (Spring 2009).
Used here with the author's permission.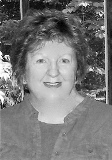 Janet Leahy is the author of The Storm, a collection of poems about the Iraq War, and her poems have appeared in a a variety of journals, in the Wisconsin Poets' Calendars, and in the anthology, Empty Shoes. She participated in last year's "One Vision" art and poetry exhibit at Waukesha's Oconomowoc Arts Center, and will have another poem included in the "Verse and Vision Project," at Q Gallery in Steven's Point, Wisconsin, during May of 2011. A member of the Wisconsin Fellowship of Poets, Janet lives in New Berlin, teaches part-time in Milwaukee, and participates in a poetry critique group at  UW-Waukesha. 
LindaCrosfield:
Wow! Just discovered this one. "...red rod of peony" splitting the garden floor—perfect!
Posted 04/11/2011 03:11 PM
transitions:
An inspiration of a poem; wonderful imgagery that made my being a little lighter ~ Judy W.
Posted 04/10/2011 11:42 AM
Jo:
I really like this poem Janet. So good to come to this site and read you.
Posted 04/08/2011 07:36 PM
tsquillace:
the third verse 'for the faint of vision.....' brings memories of lisel mueller's 'monet refuses the operation' loved it all tom
Posted 04/08/2011 11:32 AM
Gail Goepfert:
I love everything about this poem--the use of repetition, the granting of two lines to each lovely image, and the hope that spring will soon come down from the top of the tree!
Posted 04/08/2011 10:08 AM
Joe Sottile:
"For the weary winter soul.." wonderful line, and ending to the poem.
Posted 04/08/2011 10:05 AM
Katy Phillips:
Oh, Janet . . .as usual, your images just carry me away. Thank you for this lunimous way to start the day! Katy
Posted 04/08/2011 09:46 AM
KevinArnold:
What a fun poem, like Spring itself.
Posted 04/08/2011 08:50 AM
Julianne Carlile:
Really pretty.
Posted 04/08/2011 08:38 AM
jeeger:
I absolutely love (and needed to hear) this line: "For the red rod of peony spring splits the garden floor" - simply wonderful!
Posted 04/08/2011 08:14 AM