Each day the mailman rides
to a dutiful stop, slides his hand

into the small aluminum tunnel
of our mailbox.

I wonder if the air feels differently
than it did a few years back —
all the emails zipping past him
like no-see-ums.

Sometimes I miss
seeing someone's script

make its way across the envelope
with the sure sense
of the steady straight line,

and then unfolding the letter,
the slight shadows from
the creases as I read it,

reminding me
for a moment of who
had folded and tucked the letter

into the envelope,
sealed it with their tongue,
and carried it to a mailbox

where it sat with all
the other letters in a long silence
that could've lasted for days.


From Second Skin (Wind Publications, 2010)
Used with the author's permission.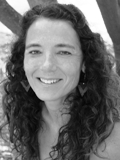 Sally Bliumis-Dunn teaches Modern Poetry at Manhattanville College. Her poems have been published in the Paris Review, Poetry London, Prairie Schooner, and the New York Times, among other distinguished journals. In 2002, she was a finalist for the Pablo Neruda Prize. Sally lives in Armonk, New York, with her husband, John, and their four children. Learn more about her here.
LindaCrosfield:
Passing this one on to letter-carrier friends. Enjoyed it very much.
Posted 04/12/2011 01:23 PM
Joe Sottile:
Yes, this is a graceful poem...Sally has many more refreshing poems at her website. Thank you, Sally and Jayne.
Posted 04/12/2011 10:19 AM
jeanie:
this is great! i love it. i have a letter-writer in my life now, and it is so refreshing!
Posted 04/12/2011 08:50 AM