The sun was warm but the wind was chill.
You know how it is with an April day
When the sun is out and the wind is still,
You're one month on in the middle of May.
But if you so much as dare to speak,
A cloud comes over the sunlit arch,
A wind comes off a frozen peak,
And you're two months back in the middle of March.

This poem is in the public domain.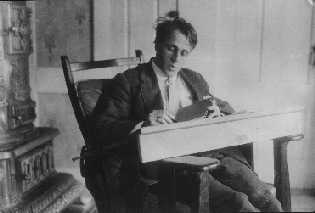 Robert Frost (1874-1963) was born in San Francisco, but moved to Massachusetts with his family after his father's death in 1885 and, ultimately, lived in a number of homes and farms throughout New England. Though he attended several prestigious colleges and universities, he never graduated from any of them. Nonetheless, Robert spent most of his adult life teaching, receiving more than forty honorary degrees, along with four Pulitzer Prizes. Robert's interest in poetry started early; he published his first poem while in high school, sold his first poem at twenty, and by the age of forty, was one of America's best known and best loved poets. Rural life is a consistent theme in Robert's poetry, as is simplistic language that is pleasing to the ear; he felt strongly that poetry was best appreciated when read aloud.
jfletch:
Too much poetry today uses language and "style" that is too clever by half! Frost talked to us, in our own language, yet conveyed deep and universal truths in verse that somehow sang--or whispered--to us.
Posted 04/20/2011 08:27 PM
Joe Sottile:
Dotief says it all. Ditto!
Posted 04/20/2011 11:30 AM
dotief@comcast.net:
I love Frost! His "The Road Not Taken," "Stopping by Woods on a Snowy Evening," and "Mending Wall" live in my heart, in my head, and on my tongue. I find so many of life's situations are better understood when I quote a line or two from these masterpieces. I am all about free verse, but I still love the simple formality and powerful imagery of Frost! He has "made all the difference" for me and my understanding of poetry as an art form.
Posted 04/20/2011 08:26 AM
jeanie:
ah. this must be what happened here in wisconsin!!
Posted 04/20/2011 06:53 AM
Julianne Carlile:
I still like Robert Frost. I don't care what anybody says.
Posted 04/20/2011 05:46 AM