How clear, how lovely bright,
How beautiful to sight
    Those beams of morning play;
How heaven laughs out with glee
Where, like a bird set free,
Up from the eastern sea
    Soars the delightful day.
To-day I shall be strong,
No more shall yield to wrong,
    Shall squander life no more;
Days lost, I know not how,
I shall retrieve them now;
Now I shall keep the vow
    I never kept before.

Ensanguining the skies
How heavily it dies
    Into the west away;
Past touch and sight and sound
Not further to be found,
How hopeless under ground
    Falls the remorseful day.


This poem is in the public domain.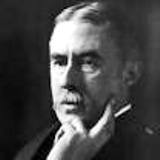 Alfred Edward Housman (1859 – 1936) was an English poet best known for a collective work called A Shropshire Lad, which has remained consistently in print since first published in 1896. A renowned scholar of the classics, Alfred was, for many years, a professor of Latin at Trinity College in Cambridge, where he had a reputation for terrorizing his students and never bothering to learn their names. Widely known and admired even now, Alfred's work is referenced in, and excerpted from, everything from movies to comic books.
kmglenn@att.net:
What wonderful thoughts for the end of Endeavor. From the beginning to the end.
Posted 06/17/2023 02:53 PM
Djohnson:
Inspector Morse is so refreshing to watch and listened to...Morse to Thursday: Ensanguining the skies How heavily it dies Into the west away, past touch and sight and sound, not further to be found How hopeless underground Falls the remorseful day...
Posted 10/29/2022 10:29 AM
charlottheelian:
Can we eliminate the sunman42 comment? We haven't seen the episode and planned to send this to others who have not.
Posted 10/03/2022 04:06 PM
Fynn:
Still I love to watch the supremely intelligent and sensitive Morse..I too learned of The sanguining skies this way.. I long to embrace such sensitives who like me, need to have such soul food in our everyday 🌾
Posted 09/04/2022 01:22 PM
edward60plus:
I, too, just came across this poem through a rerun of the last episode of Inspector Morse. "Ensanguining the skies" ... what a lovely expression.
Posted 04/04/2018 12:43 PM
dougimmel:
Morse, Lewis, then Endeavor, in that order mined their treasures in discovery and recovery, now are thine.
Posted 07/10/2016 08:40 AM
pamina:
I stumbled upon the poem through Inspector Morse. I fell in love with the sensuality of the words. iogirl39
Posted 09/18/2015 11:34 AM
Chabanowich:
Every string of my inner piano is struck with precision and in accord with a wondrous harmony in reading the poem, and especially the final stanza. So rich and deadly in expression.
Posted 07/21/2015 03:05 PM
sunman42:
The last two stanzas are spoken by Endeavour Morse to Fred Thursday just before Thursday is shot at the end of "Neverland," the last episode of Series 2 of Endeavour. And "The Remorseful Day" is the final episode of the Inspector Morse series.
Posted 07/12/2015 03:41 PM