One little leaguer sits at the end of the bench
catching his new mitt in midair summersaults
his dangling cleats dancing to a music that whistles
4th grade melodies through a chain link backstop.
His father sneaks up behind him, pulls
the carefully shaped and creased brim of the boy's cap
down over young blue eyes day-dreaming a sparkling
river of catfish and cane pole sunup.

I sit beside my son, nudge him, butt to butt,
in a sport more compelling than the dusty strike-out
about to happen. I ask the score
but know the answer, we're losing.
I pretend that baseball has grown interesting. We sit
inning after inning covering this position.
It's better than right field and I agree,
pulled from a reverie of my own?
a distant June and the ring of a home run,
a quiet park bench,
leaves of ginger settling on my shoulders.
© by Albert DeGenova.
Used with the author's permission.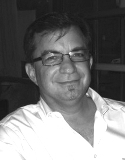 Albert DeGenova is the author of two books of poetry and two chapbooks, most recently Postcards to Jack (Naked Mannequin, 2010). From 1978-1980, he was an editor of the Oyez Review (published by Roosevelt University); in June of 2000 he launched the literary/arts journal After Hours, for which he continues as publisher and editor. DeGenova is half of the performance poetry duo, AvantRetro, which appears throughout the Midwest and greater Chicago area. DeGenova received his MFA in Writing from Spalding University, Louisville. He is a blues saxophonist and one-time contributing editor to Down Beat magazine.
Janet Leahy:
I can see you there, on the bench next to your son. Nice to meet you this week at The Clearing!
Posted 06/16/2011 04:12 PM
nadia ibrashi:
Lovely images and thoughts.
Posted 06/16/2011 11:46 AM
dianapoet:
I like the poem
Posted 06/16/2011 10:01 AM
mimi:
LOVE this poem, Al, and I so relate! Sharon Auberle
Posted 06/16/2011 08:27 AM