In a Russian meadow, a wild rose fair
     Bloomed sweet, in the olden days;
And proud Queen Catherine, passing there,
     Beheld, admiring, its beauty rare,
And crowned it with royal praise.

"This rose is worthy," she smiling said,
     "To bloom in our garden bowers—
And hence transferred to a nobler bed,
     Its boughs shall flourish, its blossoms spread
In the shade of our palace towers."
She posted a soldier to guard its bloom,
     And shield it from chance of harm,—
So, in its circle of sweet perfume
     The sentinel waiting, in light and gloom,
With musket across his arm.


This poem is in the public domain.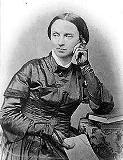 Elizabeth Akers Allen (1832 – 1911) was a journalist and poet. She used the pen name of Florence Percy for much of her early work, some of which was published when she was only 12. Born in Maine, Elizabeth lived in Italy, Virginia, Washington, D.C., and New Jersey before ultimately settling in New York. She worked as an editor, European correspondent, government clerk, and Civil War nurse in the course of her career, publishing eight books of poetry and one novel along the way.



There are no comments for this poem yet.